We're huge Dr. Seuss fans in this house – are you too? We love the over-the-top, zany worlds and characters that fill the pages of his books. Since Dr. Seuss's birthday is coming up on March 2, we decided to turn ourselves into silly Seuss-inspired characters by making our own crazy paper hats.
These wild hats take very little prep work, aren't super messy, and are perfect for both little and big crafty kiddos. And, they are SO fun to make! Craft them in honor of the great Dr. Seuss and wear them proudly.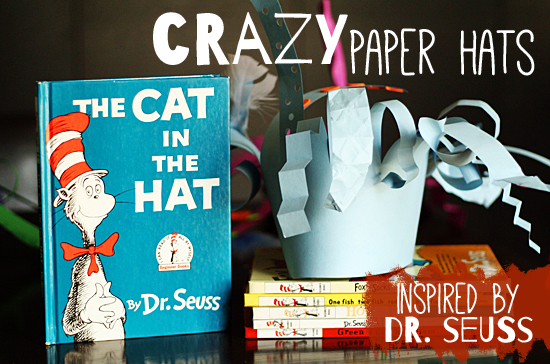 Crazy Paper Hats Inspired by Dr. Seuss
Start with a 12″x18″ sheet of colored construction paper. Cut strips along the length of the paper, leaving a 3″-4″ uncut band of paper at the bottom. No need for the strips to be cut perfectly straight or all the same size – just wing it! This is great scissor practice.
Now, it's time to start embellishing the strips. We started by doing a few accordion folds, and curling some of our strips around pencils.
We also tried other types of folding, crumpling, hole-punching, and cutting fringe. Your kids will come up with all kinds of creative ways to crazy-up their hats! The more creative and silly, the better (in my opinion).
We added sticky foam shapes, taped on colorful feathers, and decorated with stripes of printed tape. You could color your strips with markers, use shaped punches, add googly eyes, or cover with stickers. I recommend setting out a "buffet" of materials and letting your kids experiment and be creative. Possibilities are endless!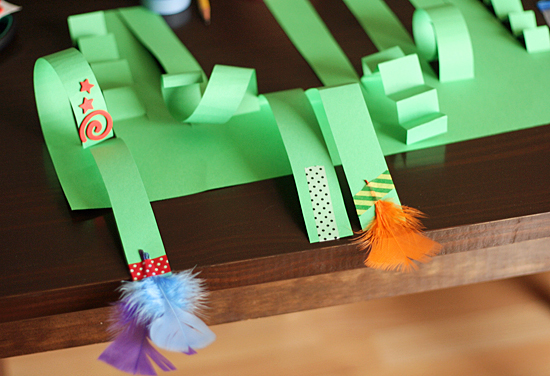 When your hat is finished, it's time to size and staple it. If it doesn't fit all the way around your child's head (ours didn't), just add a strip of paper to the back. Easy as that.
Now you're ready to giggle at yourself in the mirror or parade around the house in your crazy hat. Maybe you should give yourself a Seussical name, too! Oh, and don't forget to make one for your baby brother (or sister). Babies love Dr. Seuss, too! (Meet Henry – we're getting him started on crafting at an early age! Isn't he the cutest?)
By the way, did you know Dr. Seuss was a hat collector? How fun! Read more about his hat collection and see if the Hats Off to Dr. Seuss Art Exhibit is coming to a place near you.
Have fun crafting crazy, Dr. Seuss-inspired paper hats!
SaveSaveSaveSave