Mother's Day is the perfect time to create these beautiful fancy flower cards. Collect flowers, blossoms, and leaves from your own yard to create these beauties. You only need a few other supplies to make these cards. Write a sweet note on the inside and give them to all of the mothers in your life. They will love this handmade gift.
I love the beautiful 'flower girls' from Elsa Mora, first seen at The Crafty Crow. Ever since I saw them, I could not wait to make one of my own. So we've crafted a few of these fancy flower girls onto cards for Mother's day, inspired by Elsa Mora.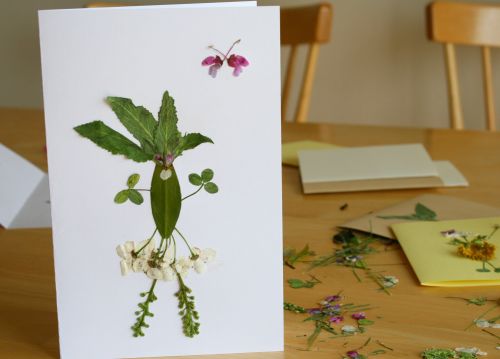 Create a Fancy Flower Card
Supplies for Fancy Flower Cards:
flowers – I didn't have many flowers on hand, so we used other things collected from the yard: blossoms, grass, clover, even the weeds!
cardstock – for the folded card
glue – white glue or a glue stick should do, or you can use a spray adhesive too.
Since these flower people are 3D and I didn't want them wilting or getting smooshed, we pressed them all first before we got started. (For details on pressing flowers, see my Pressing Leaves post.) Or you can make your flower card with fresh flowers and then press it after, once the glue has dried on the cards. Then they can be easily displayed and saved.
Then design your flowers into people or animals with the supplies you have. Simply lay out your design, then glue it in place. As my flowers were already pressed, the glue stick worked great to hold them in place. But if you're using fresh flowers, I'd use white craft glue.
It's amazing to look at an object and see what other form it could be. My son chose to make an animal instead, here's his frog on a surfboard. My mother-in-law loves frogs, so this one below is for her.
We had a great time creating these cards and can't wait to give them to our Grandmas for Mother's Day! (Here's a fun Tissue Paper Flower Card that would be fun to craft for Mom too!)
Here are more Mother's Day gift ideas to try:
SaveSave