On most Fridays, I set-out a free play art activity for my girls. I pull out materials we haven't used in a while, various items that fit a theme (like "round"), or craft supplies that we don't normally use together. While we often enjoy doing crafts together, these art times are all about experimenting and enjoying the process.
We recently created 3-D paper sculptures, which my girls declared one of their favorite projects ever. Sometimes the simplest supplies are the best inspiration!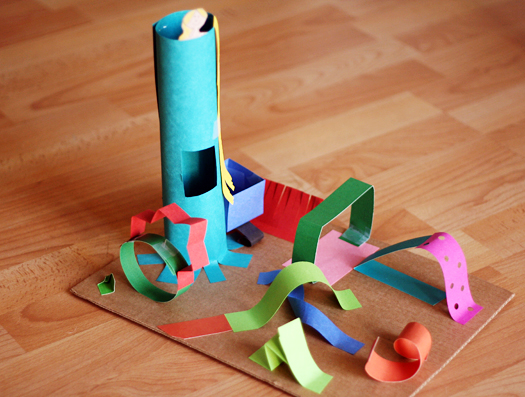 The basic idea of this project is to make something with dimension – with a little creativity, paper doesn't have to be flat!
Creating 3-D Paper Sculptures With Kids
Supplies for 3-D Paper Sculptures:
colored paper – lots of strips of varying widths, plus some larger pieces
cardboard, cereal box, file folder or other thick paper for a base
sticky stuff – glue stick, white glue, tape, stapler
scissors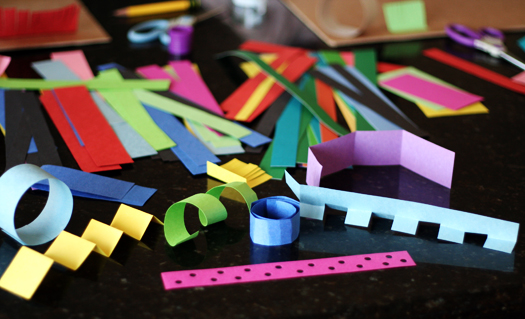 To get the girls started, I showed them a few ways to fold, twist, curl, and cut the paper. We practiced:
Rolling the paper around a pencil to make curls and spirals
Accordion folds
Gluing the paper into a circle, square, or triangle
Cutting fringe
Making a bridge
Hole punching
Rolling paper into a cylinder
I also showed them how to cut and fold tabs or "feet" to attach their creations to the base.
After a quick demo, they were off and running! They came up with so many neat ideas that my mommy brain hadn't even thought of. While they were creating, they talked about how their designs looked like playgrounds, roller coasters, and crazy Dr. Seuss worlds.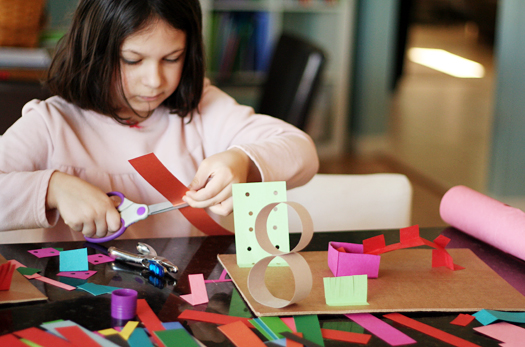 Preschoolers can experiment with different folding, rolling, and cutting techniques. Crumpling paper into balls is fun, too! Added bonus – all that folding, twisting, and cutting is excellent hand and finger work for the little ones.
Older kids can create more detailed pieces and elaborate structures. My girls both made Rapunzel's tower, complete with windows and long braids. For a bigger challenge, start with a small base and see how tall of a sculpture you can make.
Would you like to start a regular free play art time at your house? 3-D paper sculptures would be a great first project! For more inspiration, you can find other free play art activities at my blog.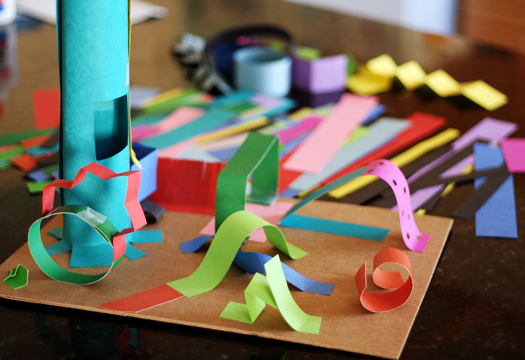 Happy creating and playing!