We love to play family creative storytelling games in the car, around the dinner table, or winding down before bed. Using our imaginations to tell stories is such good, creative work for our brains. But sometimes, it's hard to think of ideas (especially for tired moms and dads!). Using recycled cardboard and a few simple supplies, you can give your storytelling a boost with a homemade spin-a-story spinner.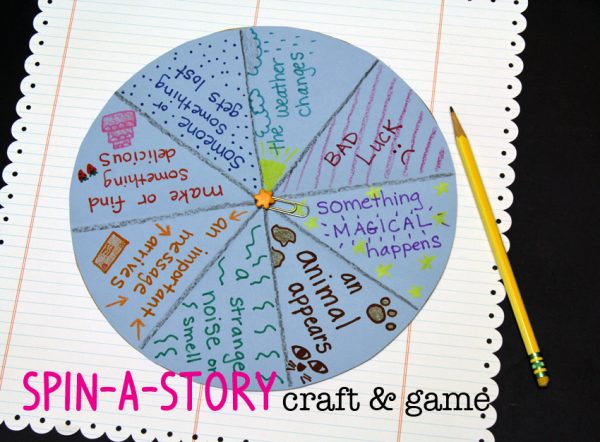 Spin-a-Story Craft and Game
Fill each space on the spin-a-story with a new idea or plot twist for your story. Will a magical animal appear? Could a storm or bad luck change your story? Will your story be magical, silly, or full of adventure? It's up to you!
Supplies:
Cereal box, or other recycled cardboard
1 sheet 9 x 12" construction paper, any light color
Markers or crayons
Paperclip
Brad (paper fastener)
Scissors
Glue stick
Tape
Instructions:
1. Cut two circles, one from cardboard and one from colored paper. A small dinner plate (8-9") is good for tracing.
2. To create the pie-shaped spaces for the spinner, fold the paper circle in half three times. Open the paper, then trace the crease lines with a marker or crayon, if you like.
3. Write a story idea in each section of the circle, such as something or someone gets lost, the weather changes, or an important message arrives. Let your kids use their imaginations and be creative with the ideas. Anything goes! Decorate the spaces with designs or pictures, too.
4. Glue the finished paper circle to the cardboard circle.
5. Grown-up job: Carefully poke a small hole in the center of the spinner.
6. Put the brad through the paperclip first, then through the hole on the spinner. Allow the head of the brad to stick up just a bit, so the paperclip can spin freely. Spread the prongs of the brad under the spinner, and keep them in place with a piece of tape over the top.
Now you're ready to spin a silly story!
Storytelling Games
Here are a few ways we like to use the spin-a-story spinner:
Pass the Spinner: One person starts the story. After 2-3 sentences, it passes to the next person, who spins the spinner and then adds to the story. Continue passing the spinner and adding to the story until it comes to a good ending, or it gets too silly to go on!
Story Drawings: One person tells the story, using the spinner to add new ideas. At the same time, the listeners draw what they hear, adding more details to their drawings as the story changes. Compare drawings to see what everyone heard.
I'm sure you will have fun coming up with your own imaginative storytelling games!