I cannot get enough of crochet! On to our next featured crochet pattern for our Crochet-A-Day series. This is a super simple, you can do this, project. Crochet Bow Tutorial from Craftiness is not Optional! These darling little bows are the perfect project to crochet in a day. A great beginner project if you are just starting out and will not take you very long to do. If you're making them for a little girl's hair bow or a little boy's bow tie, crochet a few up for your little ones! These would also make the cutest baby shower gifts, wouldn't they? Give this project a try- you won't regret it!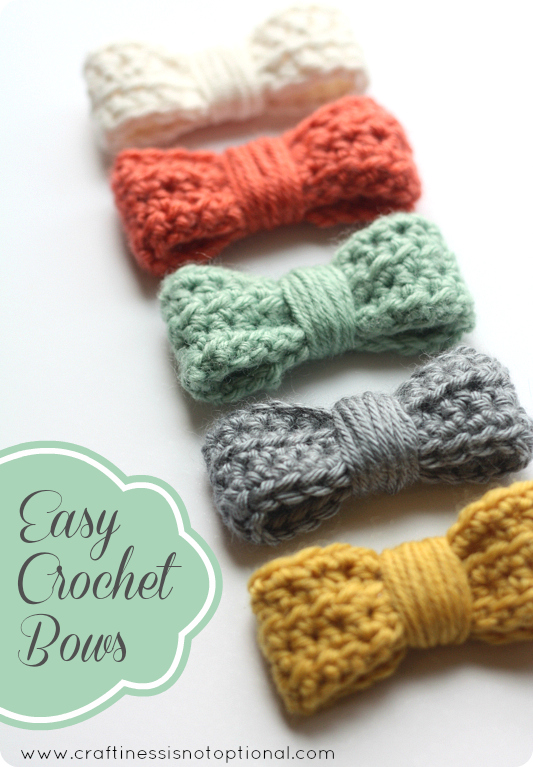 Crochet-A-Day: Crochet Bow Tutorial
This tutorial uses the half double crochet (hdc). To learn more about this stitch or to freshen up your skills, see this how-to video for basic stitches:
Crochet Bow Tutorial
A few months back I was on an airplane and whipped up a few of these myself using Jess's Crochet Bow Tutorial. It's super simple to follow. Do you love my "airplane scissors?"!! I did not have any glue, so I did have to alter it a little. I think it worked out great! *I stitched the two ends together to make a circle out of the piece, like a bracelet, then wrapped the yarn around the center, covering my two stitched ends. Voila!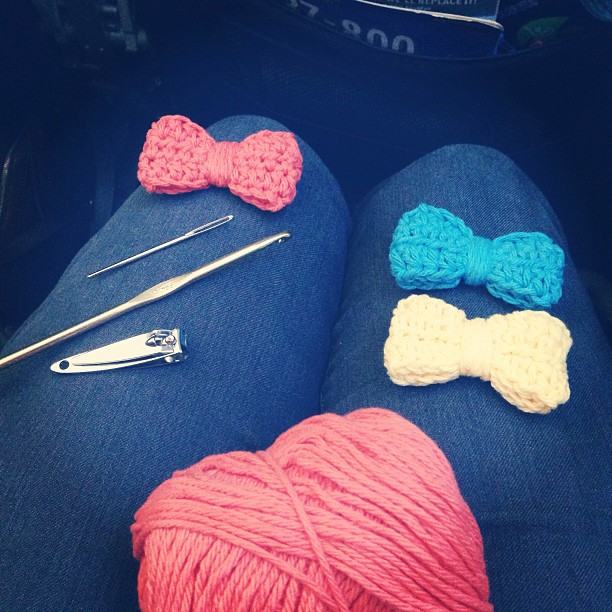 Add a few alligator hair clips and they're ready to wear. My little girl's love them! I think they are just too cute. I love thinking of all the fun colors I could make with these bows! Possibilities are endless. 

Want to try more crochet?
Check out more projects from our Crochet-A-Day series here: