We have one more featured pattern to showcase for our Crochet-A-Day series! How fun is this Jelly Bean Scarf from the pink and lovely Twinkie Chan?! In fact, all the scarves she makes are fun, fancy, and usually food!
Crochet Jelly Bean Scarf
You could easily crochet 1 or 2, maybe even 5 of these jelly beans in just a day. In less than a week, you'll have all your jelly beans made to assemble and join them into a darling to die for scarf! You'll be the sweetest person in town! See the full tutorial here.
Watch Twinkie Chan's video how-to for this jelly bean scarf:
More silly Candy-Shaped Crochet Projects
Crochet Easter Peeps: these are the ultimate in cuteness and candy! How fun would a whole set of colors be to crochet and display for springtime?! Find this tutorial over at The Homestead Survival.
Candy Cane Crochet Cover: I LOVE this idea for gifting candy during the Christmas holiday. It's such a darling and simple way to crochet a candy cover and in it's sweet shape of a candy cane, so festive. Find this tutorial over at Sewrella.
Crochet Ribbon Candy Pattern: Yes, this is so festive for the holidays. Did you have a bowl of these candies at your Grandma's house too?? I'm sure you did! So how fun is it to make a set of these candy ribbon crochet ornaments to hang on the tree. Find the tutorial over at Sparkles of Sunshine.
Mini Crochet Jelly Beans: these are simply too cute, almost cute enough to think they are the real thing. I can't wait to crochet up a whole batch of these and place them in a cute candy dish to display! Find the tutorial over at Fiber Flux.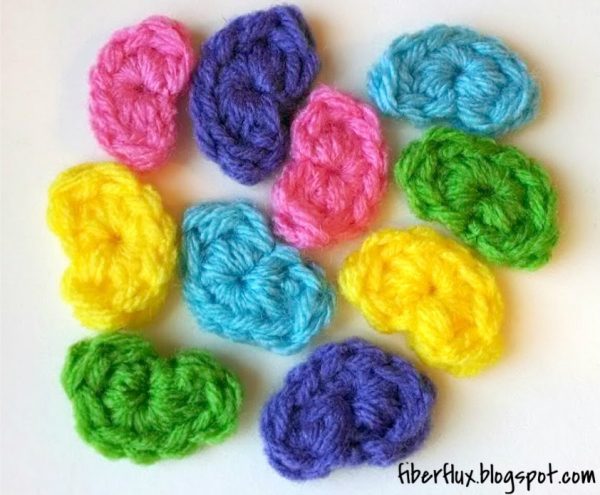 Want more crochet?
Check out these projects from our Crochet-A-Day series: