We're decorating our house for Christmas with these fun candy gumdrop cones. They're a perfect festive craft for the Holidays. You just need a few candy gumdrops, toothpicks, and a styrofoam cone or ball. But try not to eat too many candies as you craft, save some for the tree! These cute candy gumdrop trees make festive gift ideas for friends and neighbors. Just wrap them up and write a little note to go with it. They can eat it or use it for decor. Easiest gift idea ever right?
Decorate with Festive Gumdrop Trees
Supplies for Gumdrop Trees:
styrofoam cone or ball
gumdrop candies, 2-3 bags
toothpicks
First, you'll want to separate your gumdrops into their own colors. Unless you buy a package that comes in a solid color, or Christmas colors, you'll have to pick each one out. You can see we used mostly Christmas colors to craft with and are eating the purple and orange ones as we go.
For the toothpicks, you don't need the whole piece. You can easily break them in half with your fingers. Then place the broken end into the gumdrop. You'll want the pointy end facing out, ready to be pressed into the styrofoam.
Depending on what you're going to make, pick out your colors and get the toothpicks on. Then press your gumdrops into the cone or ball. You can make this a pattern or be very random about your placement, it's up to you. And it will take a lot of gumdrops to make a tree. There are a few bare branches with my son's gumdrop tree. But I love that you can personalize these to your own taste.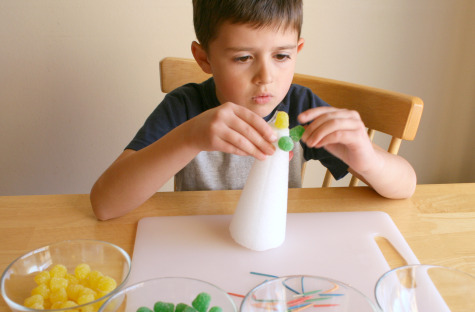 As you can see with my daughter's below, her ball is very random. In fact, she says it's a turkey. So we'll have to save it for next Thanksgiving. Love her spunk.
Have fun decorating with candy gumdrops this Christmas! Make this holiday activity a family tradition to do every year.
Check out more Holiday DIY's here: