The gals from The Tip Spot are here to share a fabulous craft with us today. Christie and Lizzy are the brains behind The Tip Spot, letting us in on great tips for everyday life. Today they're getting our kids involved in crafting and recycling with decorated glass jars. Also, today I'm lucky enough to be guest posting over at their Tip Spot, sharing how to make Pumpkin and Ghost Halloween Hats with the kiddies. So head on over to check it out and say hello!
Decorating Recycled Jars
For these fun Decorated Recycled Jars, first, wash out a glass jar (or cardboard container like a baking powder can) and remove the label.  If the label is especially sticky, use rubbing alcohol or Goo Gone to get all the glue off.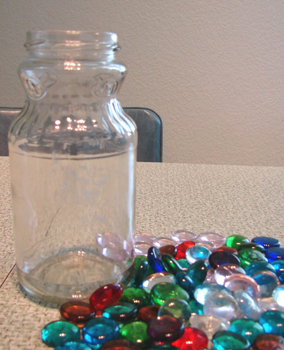 Now choose an item or three to adorn the jars with.  Buttons, coins, felt, ribbon, flat marbles, or anything else you might have stashed in your craft drawers!
Next, heat up the hot glue gun and start the decorating process.  Make it a pattern or a random assembly.
To finish off the top, cover the lid with a round of fabric, slightly larger than the lid.  Glue the edges under the lid, or around the sides of the lid (if you choose this method, use No Fray or a non-fraying fabric like felt or fleece).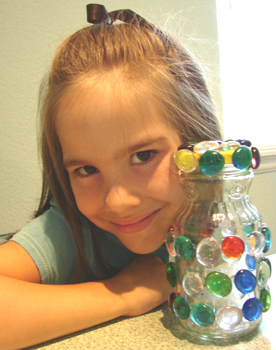 Now your have a recycled bank, or treasure jar, or jewelry jar…the list goes on and on. What will you use these fun jars for?
Thanks for sharing this great craft. I've got plenty of washed jam jars I've been saving for some sort of craft, now they'll get put to good use. My kids are going to love decorating their own treasure jar! Please visit The Tip Spot for more great ideas and tips for everyday!
SaveSave