Did you know International Dino Day is June 1st? All of my kids have gone through a dinosaur phase and it's always so much fun! From learning how to say all those long dinosaur names to setting up elaborate play scenes with a dinosaur nest and our dinosaur toys in the backyard, there is always so much wondering, learning and imagining that surrounds dinosaurs.
We recently checked out a few episodes of Gigantosaurus on Disney Channel, and my preschooler loved the adorable young dinos and the mysterious Gigantosaurus. His favorite character is Mazu, the little ankylosaurus that is always inventing tools and contraptions to help her friends solve problems.
After watching an episode about a lost dinosaur egg, my little guy was fascinated with learning more about dinosaur nests and eggs. I set-up a simple dinosaur nest-building challenge for him – art meets science meets engineering!
This dinosaur nest uses just a few simple supplies from around the house and yard, plus an easy homemade paint. And it can be perfectly paired with STEAM curriculum for your little learner. You will be ready for a dino-adventure in no time!
Design a Dinosaur Nest
Supplies:
paper lunch bag
mud paint (recipe below)
paint brush
nature items: twigs, grass, leaves
white glue
plastic eggs
optional – dot stickers, washi-tape
Instructions for dinosaur nest:
The nest base is made with a paper lunch bag. Cut about 5 inches off the top of the lunch bag, then start rolling it down. Continue rolling and shaping until you have a nest shape.
According to paleontologists, some dinosaurs dug holes in the soil or sand to lay their eggs, while others made mounded nests of soil and plant material. My little guy wanted to make a "muddy nest with plants", so we mixed up our own thick paint to add to the nest. This is an easy paint to make, using just flour, water, and coloring. If you don't have brown liquid watercolor, try mixing colors to make your own shade of brown.
Thick "Mud" Paint
4 Tablespoons flour
4 Tablespoons water
brown liquid watercolor or food coloring
Whisk together ingredients until smooth. If needed, adjust the water or flour to create a thick paint.
Using a large brush, cover the inside and outside of your dinosaur nest with the mud paint.
Next, gather tiny twigs, dried grasses, and small leaves from around your yard or neighborhood. Dip them in glue, and then stick them all over the dinosaur nest.
While the nest dries, design some dinosaur eggs to go inside. We used a few plastic eggs and added stripes and dots with stickers and colored tape. It's fun to use your imagination and think about what dinosaur eggs might have looked like. They were probably not quite as bright and colorful as our dinosaur eggs!
Time to Discover:
The best part about this art activity is that you can play with it after you make it! When the dinosaur nest is dry, put the eggs inside and find a good spot outside to place the nest. I know our dinosaurs will have many adventures protecting their nest full of eggs. I might even hide the eggs around the yard, and we will have to find them and return them to their nest – just like our daring dino friends from Gigantosaurus.
If you're lucky, maybe your dinosaur eggs will even hatch!
About Gigantosaurus
Gigantosaurus invites the youngest of viewers along on the prehistoric adventures of four curious young dinosaur friends, Rocky, Bill, Tiny and Mazu, as they explore the mystery of "Gigantosaurus" – the biggest, fiercest dinosaur of all. Every imagination-inspiring episode follows the group on a quest, as they face their individual fears and work together to solve a problem. As the inquisitive Mazu, playful Tiny, timid Bill, and courageous Rocky aim to learn more about Gigantosaurus, they discover they each have something to learn from him, too!
Pin this craft for later: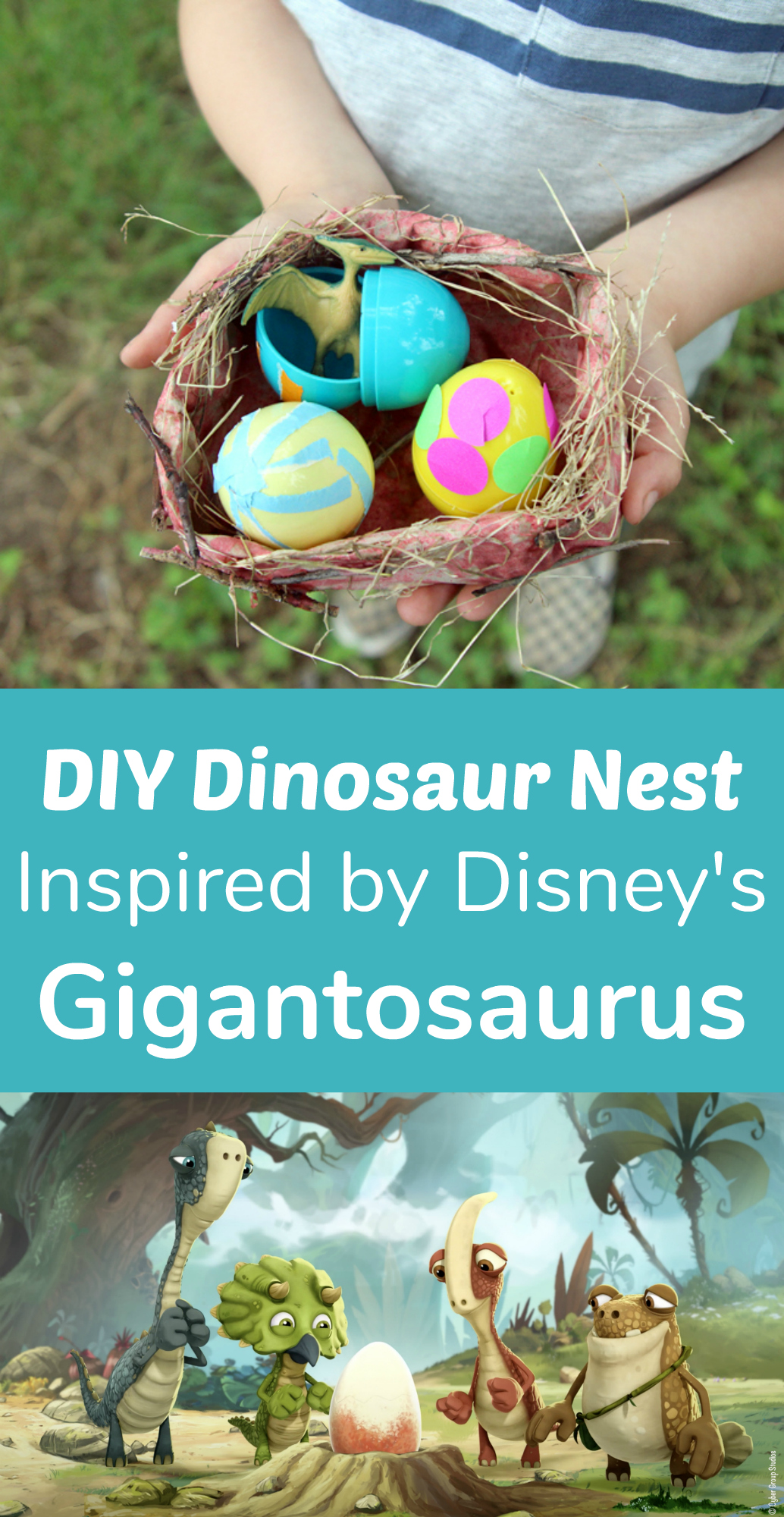 *Thanks to Gigantosaurus for sponsoring this post. Be sure to follow them on Facebook and Instagram. Watch episodes available on DisneyNOW and YouTube, (in addition to airing on Disney Junior and Disney Channel)!