My kids LOVE making and crafting presents for Dad on Father's Day. We're always trying to find creative DIY cards to make and give on Father's Day. Between my husband, both grandpas, and a couple of our neighbors, we give out a lot of cards. We love making all types of cards for the dads in our lives. Silly cards, heartfelt cards, funny cards, and sentimental cards are all perfect. I decided to search around for some new ideas this year and I have 9 really great card ideas to share with you!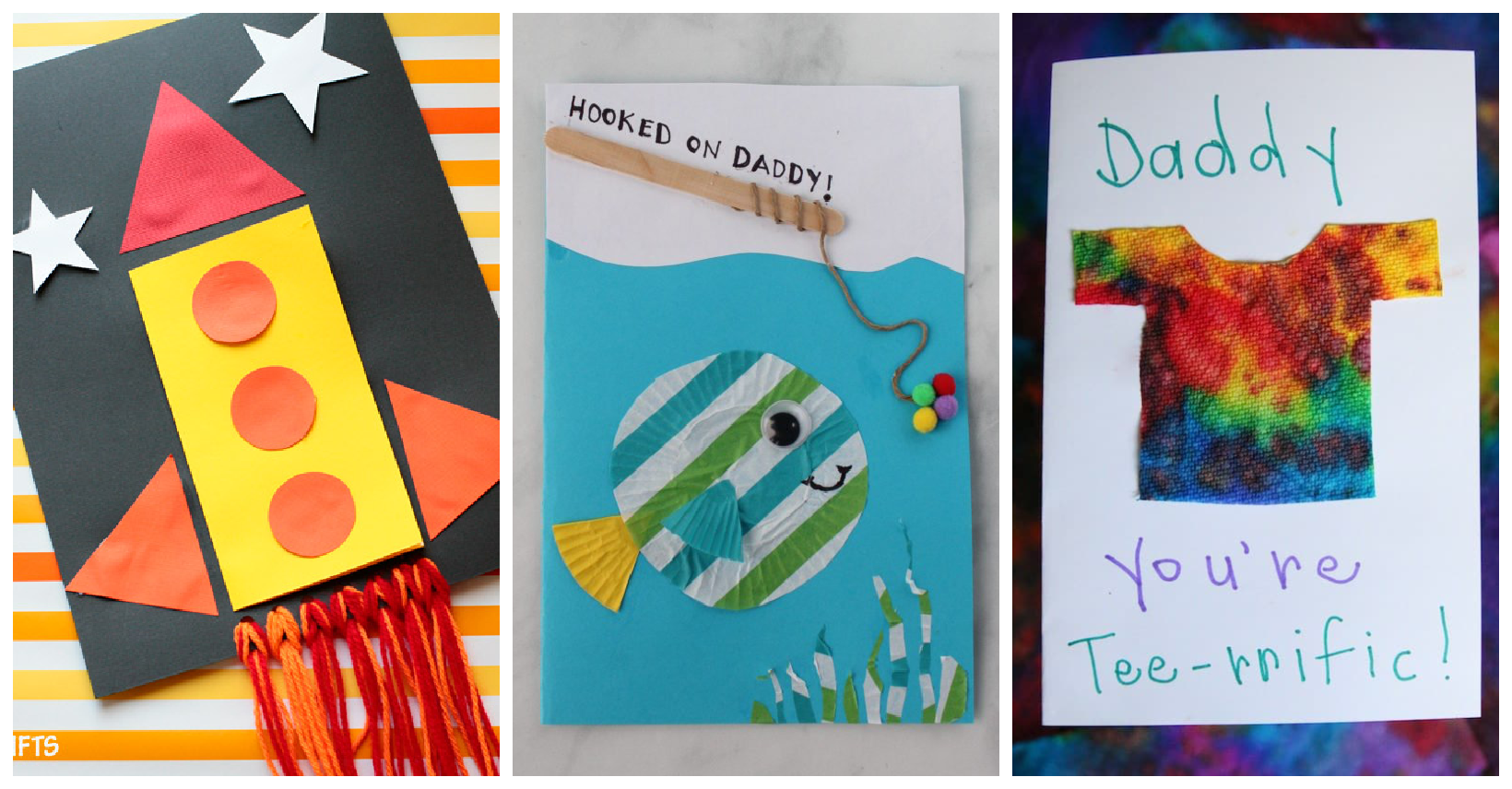 1. Printable Zig-Zag Mini Book for Father's Day: Create a mini Printable Zig-Zag Book that the kids will love to customize and the dads will love. It's the perfect little pocket size gift for Dad, Grandpa, or anyone you want to share memories with!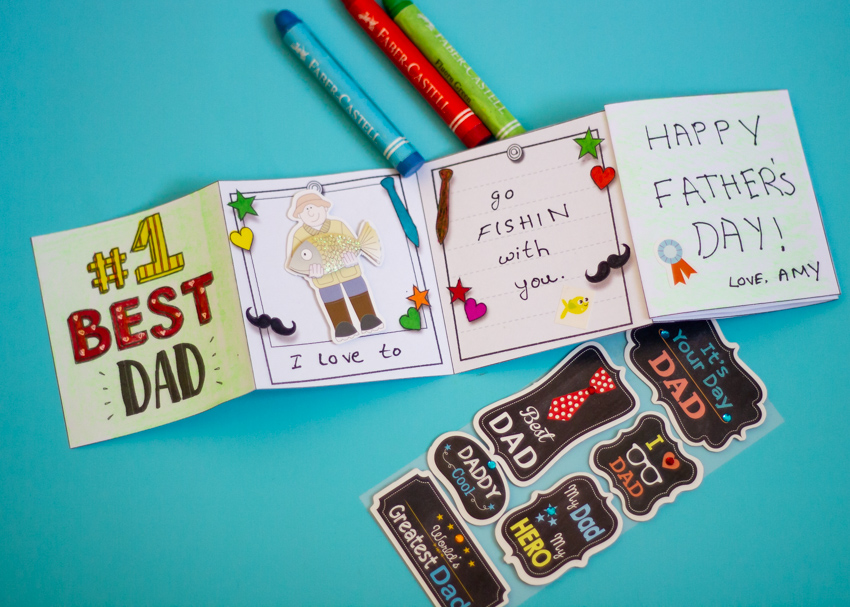 2. DIY Father's Day Tie Cards: I love a good tie card. It's classic and timeless. Especially cause my husband wears a lot of ties. (via Honey + Lime)
3. DIY Father's Day Card: Show Dad that you love him to the moon and back with this totally awesome rocket card! So fun to make and Dad will love it. (via Non-Toy Gifts)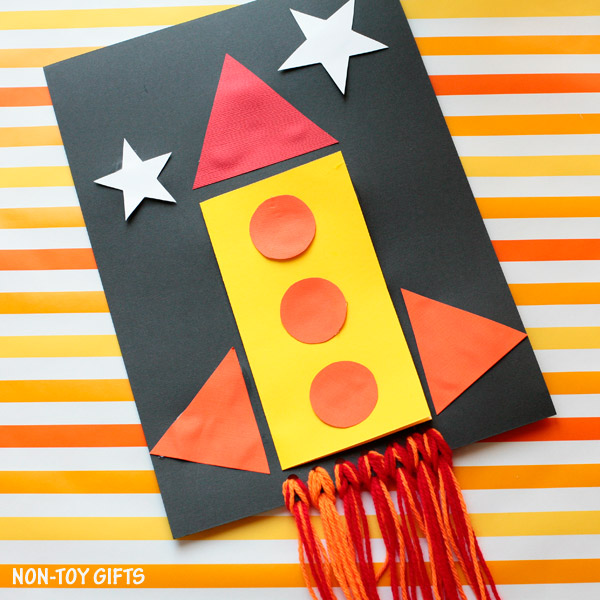 4. We Love Dad Printable: Looking for a fun and simple idea? Try this Father's Day Printable for "We Love Dad Because…". It's the perfect addition to all the Father's Day festivities you have planned.
5. Fishing Card for Father's Day: Does Dad love to fish? Then this is the best card to make and give him. Plus, it's printable which makes things easy! (via I Heart Crafty Things)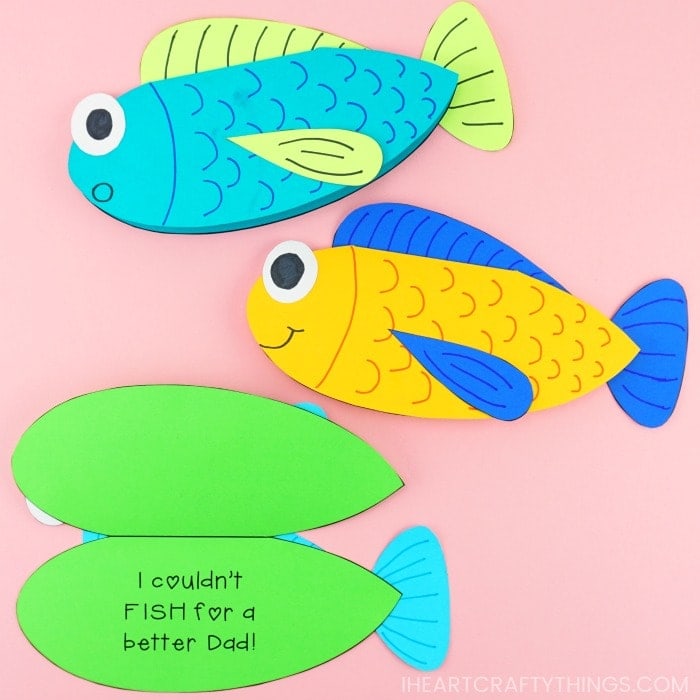 6. Easy DIY Father's Day Card Ideas: Okay, how adorable is this pizza card? I am living for the cute kid handwriting! We are totally going to use this idea. (via Good Life Detroit)
7. Fish Cupcake Liner Card Craft: We're hooked on this Father's Day card idea. Grab some cupcake liners and a few popsicle sticks and you're ready to craft. (via Feeling Nifty)
8. Coolest "Tie Dyed Tee" Father's Day Card: How awesome is this DIY tie dye card?? What a fun craft. We love tie dye at our house. (via Happy Hooligans)
9. Marble Shaving Cream Shirt & Tie Card: This shaving cream marbling technique turns out so cool! I think any kid would love to make this Father's Day card. (via The Craft at Home Family)
Happy Father's Day to all the dads out there!