This post is in partnership with Universal Pictures Home Entertainment.
We are so excited that Despicable Me 3 Special Edition is available on Blu-ray and DVD December 5th with our favorite characters Gru, Lucy, and their three adorable daughters – Margo, Edith and Agnes. It will mean lots of cozy nights under blankets during the cooler weather this holiday season as we watch the movie. We may even need to make these fun Minion hats to wear, and indulge in these Minion Ba-Ba-Banana Ice Cream Sundaes too. They'd make the perfect movie watching treat. But for now, I want to share these Dru and Gru handmade knit scarves that make the perfect holiday gift for kids, paired with the movie of course! Are you team Gru or team Dru?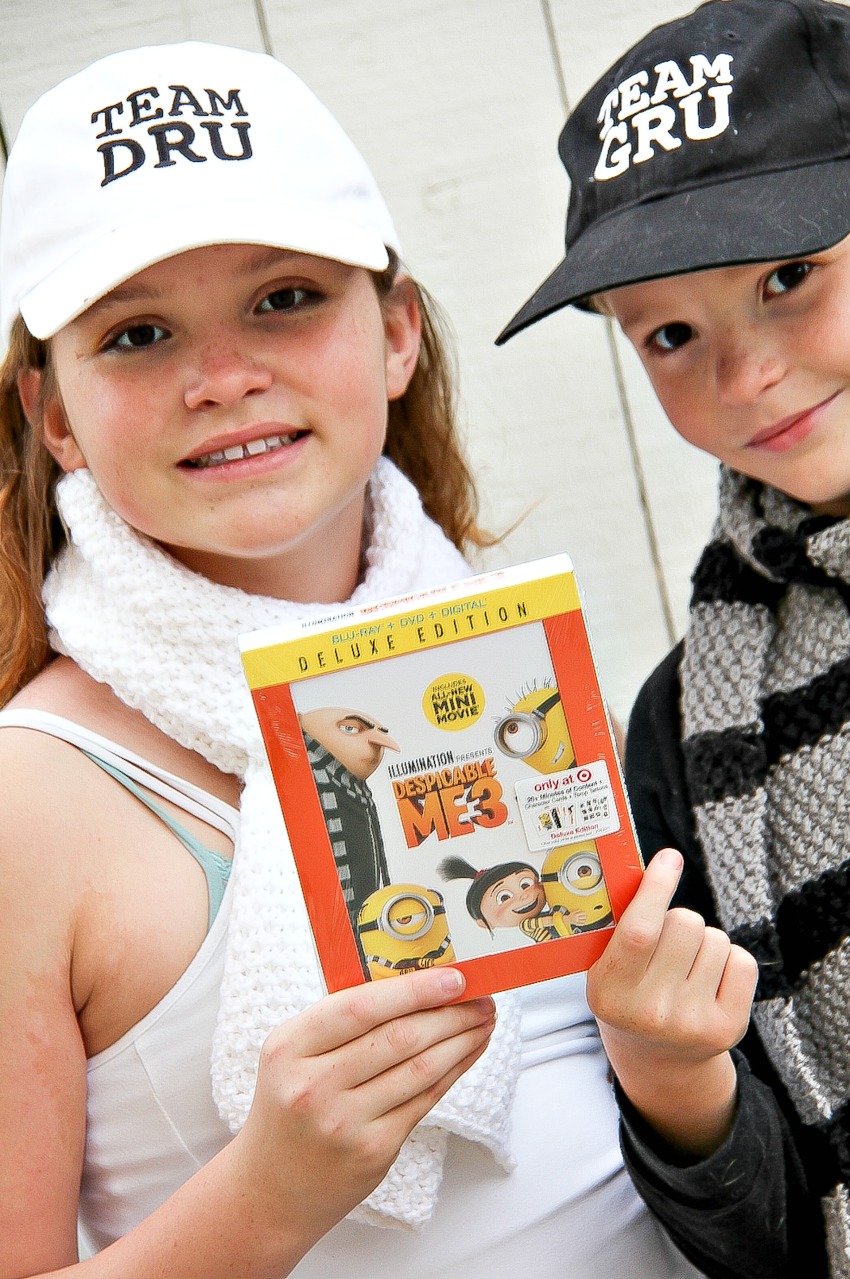 Illumination, the studio that brought you Sing, The Secret Life of Pets and the Despicable Me franchise, continues the adventures of Gru and his family in Despicable Me 3. After he is fired from the Anti-Villain League for failing to take down Balthazar Bratt, the latest evil mastermind to threaten humanity, Gru finds himself in the midst of a major identity crisis. But when a mysterious stranger shows up to inform Gru that he has a long-lost twin brother — a brother who desperately wishes to follow in his twin's despicable footsteps — the former super-villain rediscovers just how good it feels to be bad. Starring Steve Carell, Kristen Wiig, Trey Parker, Miranda Cosgrove, Dana Gaier, Nev Scharrel, Steve Coogan, Jenny Slate and Julie Andrews.
Handmade Despicable Me 3 Knit Scarves

I love knitting as the weather gets cooler. There's nothing better than curling up in front of a fire and knitting something warm. Plus, handmade gifts are just the best, there's so much love that goes into them as you knit each stitch.
Supplies:
Yarn – white, grey, and black (I used the Red Heart yarn)
No. 7 needles
Scissors
Instructions:
Note: Each scarf I made slightly differently depending on how the character wore it. For example Dru wraps and loops his scarf, whereas Gru wraps from front to back and then leaves the ends long down the front.
Gru Scarf: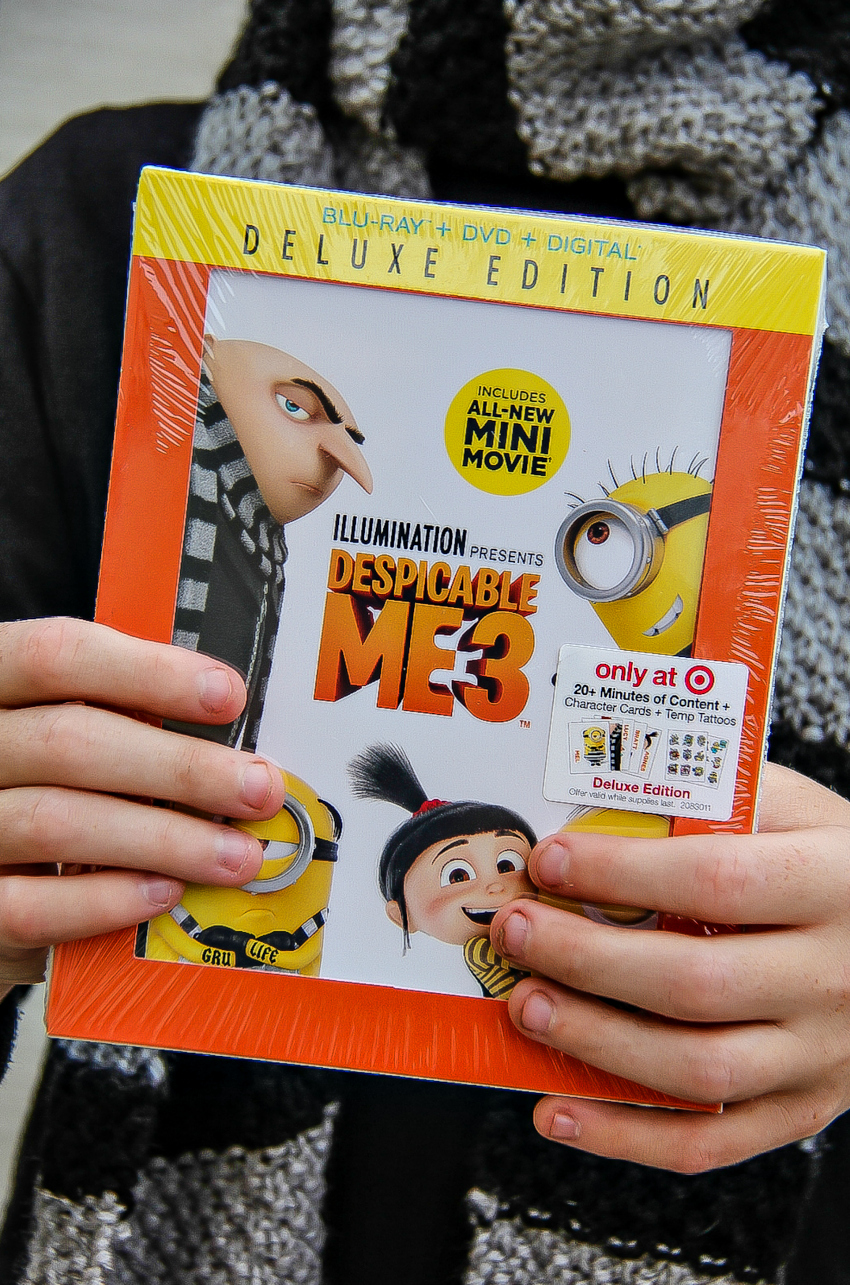 Cast on 29 stitches in grey.
K1, *P1, K1 … repeat from * to end (so you will end on a K1 stitch).
Row 2 you will repeat the above.
Row 3 K2, P1, K1 … repeat ending on K2
Row 4 you will repeat the above.
Continue repeating that sequence of 4 rows 4 times. Switch to black yarn, and then repeat the sequence twice. Switch back to the grey yarn and continue the pattern until the scarf reaches your desired length.
Dru Scarf: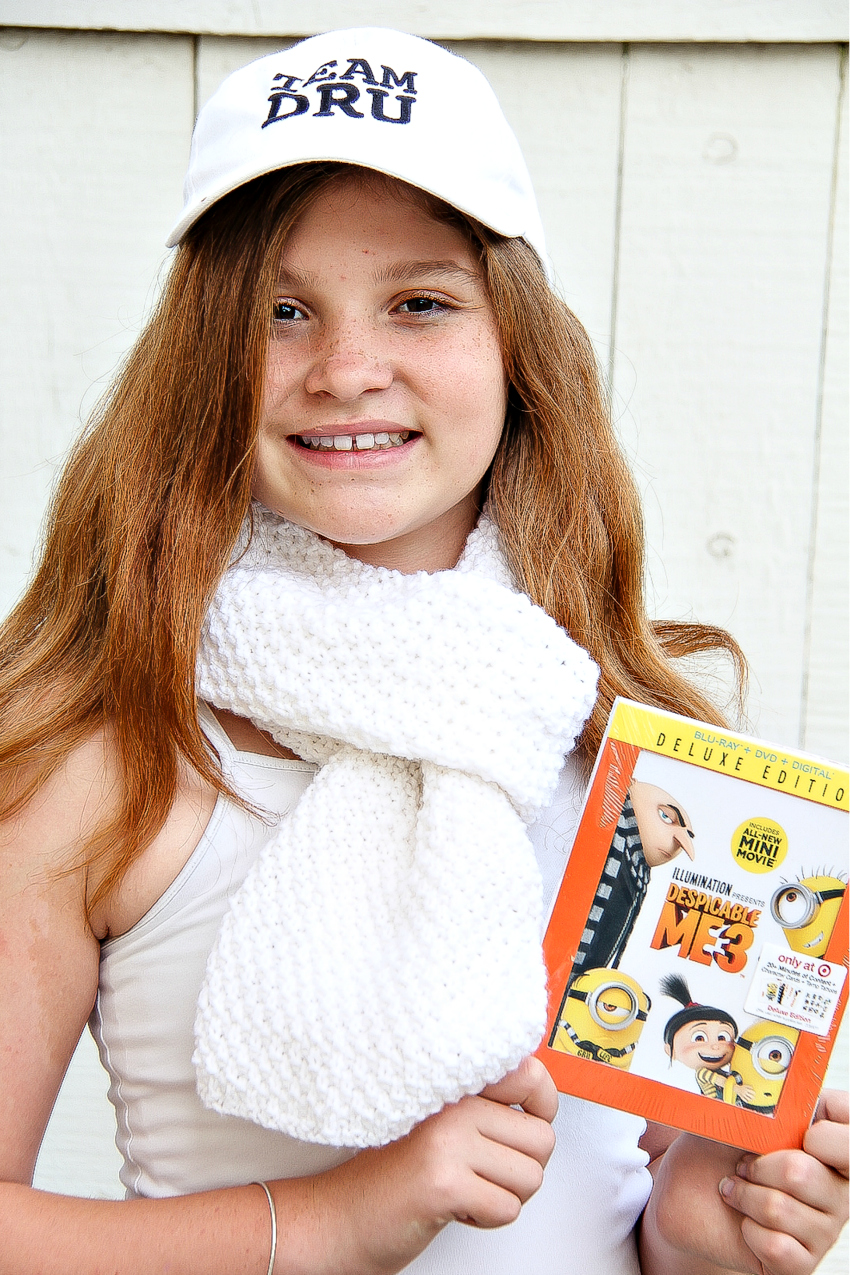 Cast on 35 stitches in white.
K1, *P1, K1 … repeat from * to end (so you will end on a K1 stitch).
Row 2 repeat the above.
Row 3 K2, P1, K1 … repeat ending the last two stitches with K2
Row 4 repeat row 3.
Repeat this sequence of 4 rows until you have used up your ball of yarn (if you've used the same yarn I did), otherwise repeat until desired length has been reached.
Roll up your knit scarves and wrap with pretty ribbon to pop into a gift bag with a copy of the movie for the perfect movie night gift.
The #1 animated comedy of the year, Despicable Me 3 is the ultimate holiday gift with an All-New Mini Movie, Minion Moments and more! Plus, the Target exclusive not only features an all-new mini-movie, but so much more including 20 mins of additional content, collectible cards featuring your favorite Despicable Me characters, and fun Minion temporary tattoos!
Watch the preview below!
Please pin this knit scarves post for later:
Be sure to go out and buy DESPICABLE ME 3 on Blu-ray and DVD this season. It's the perfect holiday stocking stuffer!
*This post is sponsored by Illumination. Follow them on Facebook, Twitter, and Instagram with hashtags #DespicableMe3 #DM3Family for more holiday fun and inspiration!