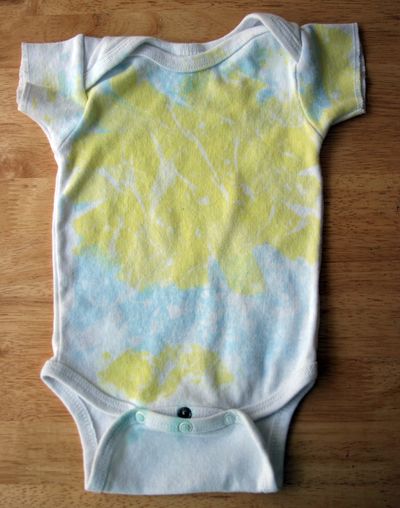 Tie dyeing is a fun summer craft, but I have been trying to cut back on crafts that cost a lot to do so I can focus on using up the huge stash of supplies I already have. I had some colored tissue paper on hand and learned that you can use it to dye fabric, so I decided to try to "tie dye" a onesie with tissue paper. Guess what, it worked!
I have tie dyed before, but it costs about $20 just to experiment a little with tie dye, plus it's not the kind of activity you want to do with very small kids because of the toxicity of some of the necessary materials (not to mention the potential disastrous mess). Dyeing with tissue paper is a great way to get the look of tie dye with very basic materials you have on hand or can get at the dollar store.
This is a great project for young kids. My 2 year-old son helped me make the onesie. It would be fun to do this a day camp or as a scout activity. The only challenge is that it takes about a day to complete the dyeing/drying process, so it's better for regular meeting-type groups. You could do it for a birthday party activity, but you'd probably want to send the shirt home (wrapped in a plastic grocery sack or zip-top bag) with parents with instructions for finishing it up.
I only had three fairly light colors of tissue paper at my house (yellow, orange, and lighter blue), but I think bolder colors would be quicker and have more impact. You could also try using leftover crepe paper from a birthday party (save the used stuff when you take it down, and reuse it for this craft!) Also, I couldn't find my spray bottle, so I used a dollar store squirt gun to spray water on my tissue! Basically, I like to use what I have on hand instead of buying new stuff for every project!
Dollar Store Tie Dyeing
Project Materials:
Tissue Paper
Light-colored Fabric or T-shirt
Water
Vinegar
Rubber Gloves (or similar)
Spray bottle/mister/recycled hairspray bottle
Plastic tablecloth or garbage bags to cover work surface
To Make:
Protect your work surface with a plastic tablecloth or plastic garbage bags (or do it outside on the grass). Wet the t-shirt in the sink, wring out, and spread out on your work surface. Place colored tissue pieces on your fabric or t-shirt as desired. I cut mine in strips to make a kind of sun shape on the chest. You can probably use strips with pretty great effect to make very basic shapes – like letters. Moisten tissue with more water (spray bottle or squirt gun), and allow dye to leach into fabric. Honestly, the more tissue the better at this stage.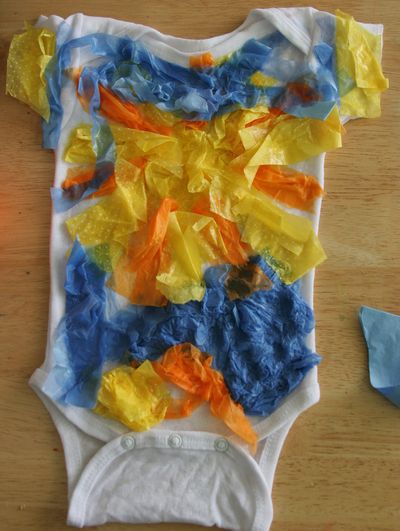 Remove tissue when desired color is reached and wet fabric with vinegar. Allow to completely dry. In my case, nothing happened (no dye transfer at first), so I just poured vinegar over the whole thing, tissue included. I removed tissue when the whole thing was dry – the next day.
Set dye by ironing damp garment with an iron, or by drying in the clothes dryer. If your garment is completely dry, moisten it and then dry it in the dryer to set. I laundered my onesie and it came out looking like it does in the photo at the top. I didn't detect any less color saturation after laundering!
Heather Mann is a regular contributor at Make and Takes. She's is the mother of two boys under age 3, and another boy on the way. She publishes Dollar Store Crafts, a daily blog devoted to hip crafting at dollar store prices, CROQ Zine, a print magazine devoted to hip crafting, and also CraftFail, a community blog that encourages crafters to share their not-so-successful craft attempts.