I love a good challenge, especially a craft challenge! I love to see all the entries and what people are creating. So, happily I've joined forces with Steph of Modern Parents Messy Kids (MPMK) to bring you a craft challenge celebrating Earth Day! We've partnered up with DecoArt to sponsor our challenge and offer a giveaway of fabulous paint prize packs!
Here is my Earth Day craft idea: Mini Tin Can Drums. We've always got a few of tin cans laying around. They inspired our mini drums, along with a balloon and some ribbon.
Supplies for Mini Tin Can Drums:
small tin cans
paint and paint brush
20 inch balloons, one per can
scissors
ribbon
craft glue or hot glue is best (adult only)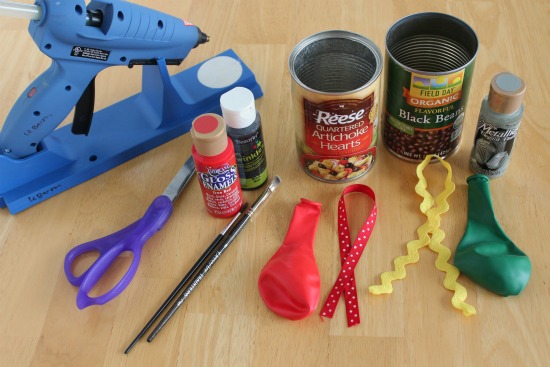 1. Wash and dry your tin cans, removing the label.
2. Now add your paint. This is where you can get really creative. These are your drums, so decorate them any way you'd like. We added some zig-zags, even some black DecoArt Twinkles paint for some extra sparkle! Let the paint dry completely.
3. With your scissors, cut your balloon. You'll want to cut farther down than you think, just about where it starts to get big toward the base. You can always cut more, so it's best to start cutting closer to the top.
4. Stretch your balloon over your tin can. You need to stretch it as much as possible to get the best drum sound. If you're having trouble with the stretching, you can help it stay in place with tape or glue dots. My balloons were good at sticking to the can and staying in place.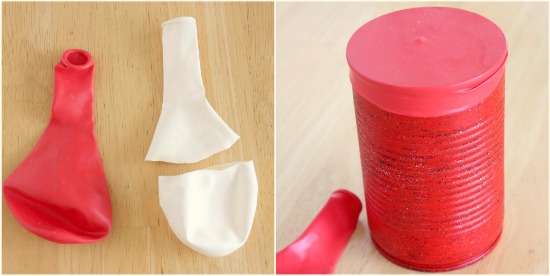 5. With your glue, add your ribbon to the seam of your balloon. This will help glue the balloon in place as well as glue on the ribbon.
6. Now it's ready for some drum sticks. We used paper tubes, pencils, and paint brushes, all worked well! We even discovered that the sides of the tin can makes a great sound too, when you rub a pencil down the ribbed side. It's an all-in-one musical instrument!
So now that you're armed with a few ideas that will hopefully inspire you for Earth Day, it's time to share what you've been crafting!
RULES for Earth Day Challenge:
Simply leave a comment with a link to your project on a blog post, pinterest page, facebook status/photo, something with an image of your recycled craft.
Share your recycled craft links/photos here at Make and Takes and/or share your recycling solution projects with links/photos over at MPMK.
It can be an old or new project, just something with an Earth Day or Recycled theme.
You can enter as many times as you'd like if you have multiple recycled projects. Enter a new comment for every idea/link.
You have until midnight on April 19th. Winners will be announced on April 20th.
*Comments without a link to an image will not be included in the giveaway*
We have DecoArt giving away 6 prize packs of paint, 3 winners here at Make and Takes and 3 winners over at MPMK! You have 6 chances to win. We'll each choose our winners from random, so no favorites, just get creative!
We'll each be sharing a new Earth Day inspired craft tutorial. Head over to MPMK for some fabulous recycled storing solutions, with a paint project and a free printable (pictured below)!
We'll be adding all of your ideas to our Craft Challenge Pinterest page so you can see all the projects. Happy Crafting!