After you're done marking down all the sales on fruit and vegetables from your grocery ads, cut them all apart by color and add them to a fun Earth Day Recycled Color Wheel.
Earth Day Recycled Color Wheels
Supplies for Newspaper Color Wheel:
grocery story ads
scissors
glue
paper plate
crayons
Instructions:
1. Using a crayon, either all black or the same colors as your color wheel, divide and mark your paper plate into sections. We're finding red, orange, yellow, green, blue, and purple colors. I like to add the color word as well to help with name recognition.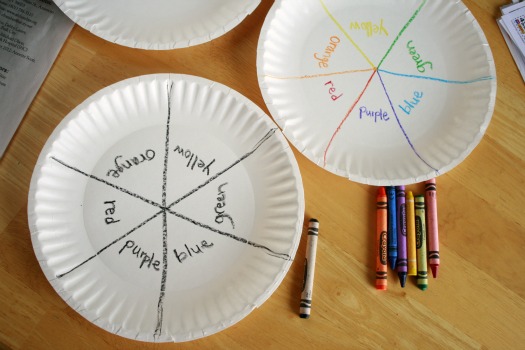 2. Find and cut out all kinds of colors from your newspaper grocery ads. Everyone's getting in on the cutting.
Even my almost 3 year old is helping, or so she thinks. She's mostly just practicing her cutting skills, making lined cuts all along the paper.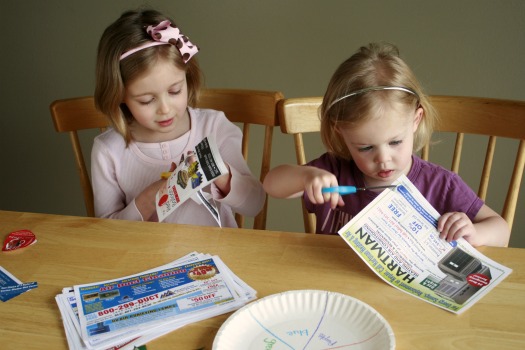 3. Place each color into little piles.
4. Glue each piece of colored newspaper to the corresponding spot on the paper plate.
My daughter wanted to make sure the orange dinosaur she found made it front and center on her color wheel.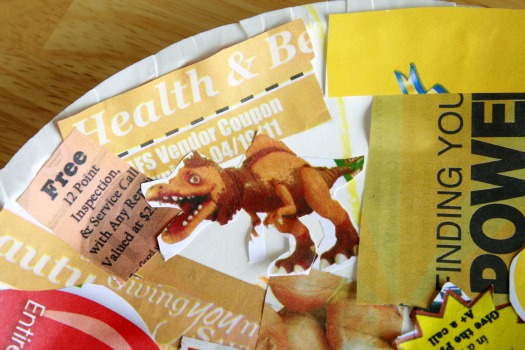 Now you've got your bright and cheery recycled color wheel, just in time to celebrate Earth Day!
I'm also sharing another Earth day project for painted pots over at PBS Parents. We're learning how to grow our own little mini garden, planting herbs that we'll use again and again in our cooking.