Making Textured Finger Paints
My girls haven't finger painted in years, and even they couldn't resist trying out these textured finger paints. Adding simple household items like flour, rice, and oats to washable paint creates interesting textures to touch and explore. Whether you paint with one finger, or smear the paint with your whole hand, it's great, messy fun!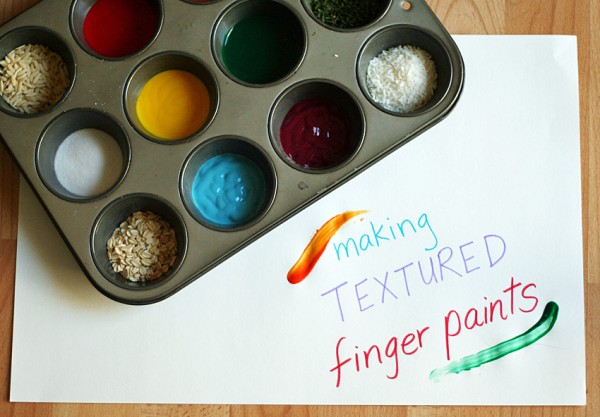 Supplies for Textured Finger Paints
washable tempera paint or finger paint
small bowls, plates, muffin tin, etc.
spoons and/or brushes
paper
textured mix-ins, such as rice, oats, sugar, salt, flour, dried herbs, shredded coconut, sand
Put small amounts of washable paint on paper plates, in bowls, or in my favorite "palette," an old muffin tin.
Use a spoon or brush to stir a different item into each color of paint. We added orzo pasta, salt, oats, flour, dried parsley, and shredded coconut to our paints. Plop a bit of paint on your paper, and explore each of the textures by spreading the paint with your fingers – or your whole hand! Which textures do you like? Are there any that you don't like? What kind of words would you use to describe each of the paints?

The salt absorbed a lot of the moisture from the yellow paint, making it an unusual, clumpy texture. One of my girls thought it felt like scrambled eggs and she couldn't stand painting with it! The flour made the orange paint thick and creamy – the girls picked that one as their favorite.
We did the dainty finger painting thing for a while, but before long it was all hands in! Happy painting!