You probably already know by now that googly eyes and pipe cleaners are my 2 favorite kid craft supplies! Here they are together as a perfect pocket-sized puppet. All you need is a little glue and you've got a cute hand puppet ready for adventure.
Supplies for Googly Eye Hand Puppet: 
1 pipe cleaner, any color
8 medium sized googly eyes
glue – hot glue is quick and fast, but a white craft glue works good too. I like Aleene's Tacky glue.

Above supplies make 4 puppets.
1. Cut your pipe cleaner into fourths. Each piece should be around 2-3 inches.
2. Bend your cut piece of pipe cleaner into a letter U shape, with each end bent just a little outward.
3. Glue one googly eye onto each end of the cut pipe cleaner.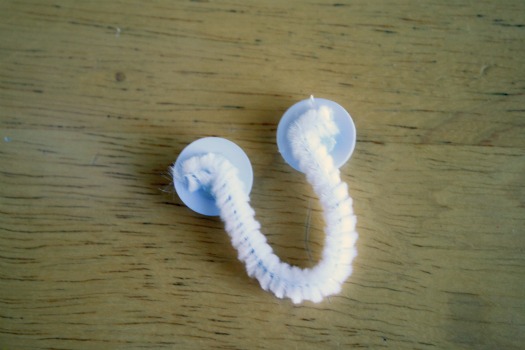 4. It's ready for wrapping around a finger!
If you place the googly eye hand puppet onto your middle finger, it works great as a talking hand puppet. For a fun activity, have children go around the house or neighborhood with their hand puppet and have the "puppet" help them find shapes, letters, or words.