I'm thrilled to have Amy of Let's Explore here as one of Make and Takes newest regular contributors. Amy will be here once a month sharing fabulous ideas for kids. Take it away, Amy…
Since my girls were preschoolers, we have been writing poems together. I love seeing little snippets of their imaginations and thoughts in the words of their poems.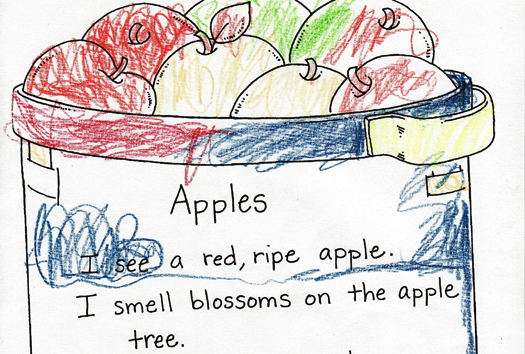 One of our all-time favorite types of poems to write are five senses poems. For this poem, your child describes an experience, item, or color using the five senses.
We usually start with an experience, such as crunching through the autumn leaves or baking our favorite cookies. While we play and talk, we are building ideas and language for our poems.
Each line of a five senses poem begins with one of the senses. Encourage your child to use "juicy" descriptive words and feel free to leave out a sense if it just doesn't fit.
I see…
I feel…
I taste…
I hear…
I smell…
After a visit to the apple orchard, my girls wrote five senses poems about apples. It was fun to look at our photos, snack on some apples, and describe what we remembered from that day.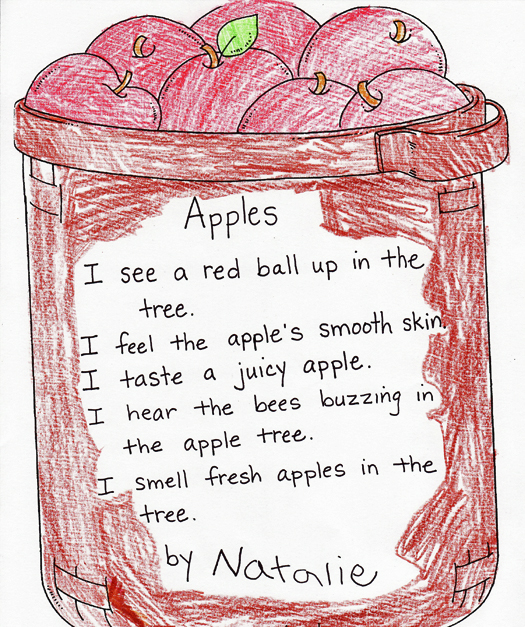 Colors make great five senses poems, too. Here is one my daughter, Natalie, wrote when she was five:
Orange by Natalie
I feel a ripe orange on my orange tree.
I hear a little orange bird singing on my fence.
I taste sweet, fresh orange juice.
I smell an orange flower that is just growing from a seed.
I see a pretty, orange butterfly fluttering in the sky.
After writing, publish your poem and share it! Write it on blank paper and add illustrations or photographs. A coloring page makes a great background, too. My girls also love when I type their poems and let them choose clip art to go with it. Keep your poems in a folder and enjoy reading them over and over again!
Happy poem-writing!