We have been loving our No-Sew Fleece Ponchos. I first made them last Fall when the weather was turning a little colder and we needed a light cover-up. We take them to the park as they help with the slight breeze still in the air, especially this Spring. We call them our Park Ponchos.
Since last time all the fleece I had was navy blue, I decided this Spring we needed some fresh color. I found this cute fabric on sale at JoAnns Fabric shop. We chose cars and a fairy fleece. I even made a tiny baby size one for my newborn when she comes.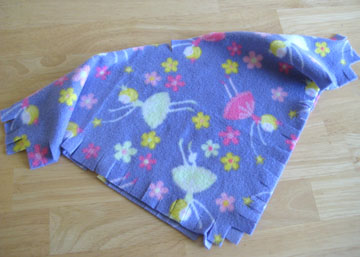 The sizes for both my kids was 27 inches square. The size for a newborn up to a toddler is 18 inches square. Fold it on a diagonal into a triangle and cut a small slit in the center. Then cut about 2-4 inches in one direction and 2-4 inches in the other direction, start with a small cut. If it doesn't fit over your child's head, keep cutting.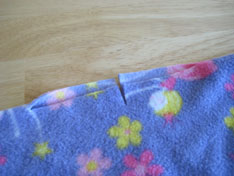 Then I cut fringe all around the poncho for the girls. For the boy one, I only cut a couple strips at the corners.
These are super easy. Any level of sewing talent is capable to make these. Buy fabric, cut fabric square, cut a hole for head in the center, cut fringe for flare! Unless the heat has already hit, you may have to wait until next Fall to make your No Sew Fleece Ponchos.