Water play is a toddler mood-changer in our house. Whether it's playing in the sink, splashing in the bath, or exploring the water table outside, water play often gets rid of any late-afternoon grumpies. We have a bucket of water play toys outside – stacking cups, measuring cups, sponges, a turkey baster, and some funnels. These get a lot of play, but sometimes we need to mix things up with a fresh play idea. I have three engaging water table play ideas, perfect for the Get Out and Play summer series. Using toys and items you probably have around the house, you'll have quick & easy fun for hot summer days!
Don't have a water table? Any shallow bin will work! You can see that we use a plastic storage bin for our water table, and it works great. Ours sits on a very simple homemade frame, but we often play with it right on the ground, too.
3 Water Table Play Ideas
1. Play Dishes
Cups, spoons, teapots and plates are perfect to pair with water, with lots of opportunities for scooping, pouring, and pretending. You could also add a few drops of dish soap and some sponges for dish washing play. My little guy loves filling and pouring with the teapot, and I remember my girls planning elaborate underwater tea parties for some plastic animals.
2. Foam shapes & scoopers
You might have some store-bought foam shapes or letters for the bath. We cut some simple shapes from craft foam sheets – if you have older kids, they can do this part for you! Bring your shapes outside to the water table and add a few different scoopers to play with, such as a ladle, slotted spoon, or pasta fork. Older toddlers and preschoolers might enjoy trying to pick the shapes up with tongs, too. My 21-month-old loved this activity and played with these shapes for a long time!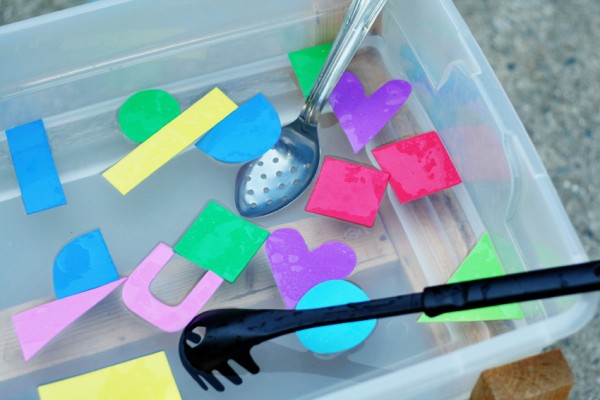 3. LEGO Duplos
Everyone has Legos in their home. Borrow some from the toy box for this water table play idea. Surprise your little one by bringing building time outside. Try clicking and un-clicking the Duplos underwater. Do they float or sink? Bonus: your Duplos get a nice cleaning, too!
Bonus:
All these ideas make bath time extra fun too! These are the best ideas for summer. Have fun playing and getting wet with your kiddos.

See more summer ideas with our Get Out and Play series!