We've been doing some organizing this summer, and my girls got new magnet boards to hang next to their desks. The magnet boards are the perfect place to display lists, photos, mementos, and other kid treasures. We wanted to jazz-up our magnet boards with some fun and unique magnets. A quick look through our craft supply stash, and we were ready for magnet-making!
Supplies for Craft Supply Magnets:
glue gun (low-temp)
round ceramic magnets
craft supplies for decorating: pom poms, jumbo googly eyes, buttons, glass marbles, etc.
Before we get crafting, here's just a few safety reminders. Even a low-temp glue gun is hot! Keep a bowl of cold water nearby, just in case. Also, magnets are not for little ones and are very dangerous if swallowed.
This is a very simple activity – in no time at all you'll have a collection of unique magnets. I worked the hot glue gun, squirting a blob of glue on top of a magnet. The girls then chose a decoration and pressed it into the glue.
All of our decorations were large and thick enough that my kids didn't have to worry about burning themselves. If you decide to apply something thinner to your magnet (like a silk flower), use a wooden craft stick to press it down.
The girls had a great time decorating their magnet boards with wish lists, photos, and other treasures. Their homemade magnets are super-strong and super-cute!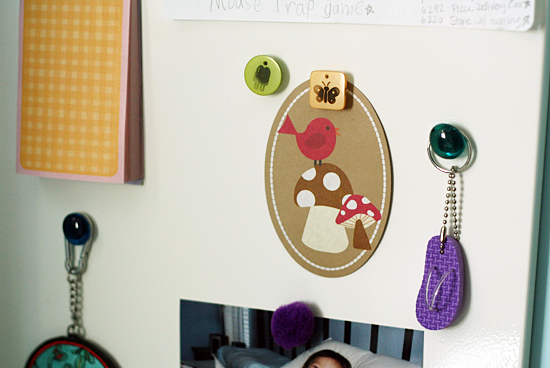 I think the googly eyes are my favorite!

Happy crafting!