We brought back some sand from our trip to the beach, crafting with it to help us remember our fun vacation. We used this sand like glitter to make sand pictures. They turned out so cute that I'll be framing them to hang in my beach themed bathroom.
Supplies for Glitter Sand Pictures:
Sand – you don't need to travel to the coast to get sand. Just sneak some from your neighbors sand box.
pencil – to draw your picture
glue – plain old white glue works great
heavy paper – we used cardstock
tray – something to catch the extra sand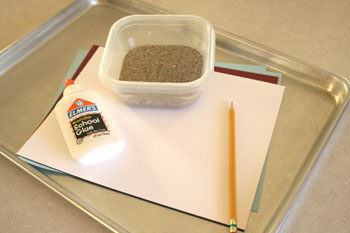 First, draw any fun picture you like onto your heavy paper. Since our sand is from the beach, we drew beach pictures. Then place your paper onto a tray for the gluing and glittering. Do this now so that your glue doesn't shift after you've poured it. Now pour the glue right over the pencil pattern. Try to stay in the lines as your sand will stick to the glue where ever you put it.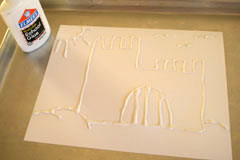 Next, take a spoonful of sand and shake it over the glued paper. It doesn't matter if it falls in big clumps. Once the whole surface of glue has been glittered with sand, carefully shake the excess off. The glue is still wet, so don't be too aggressive in shaking off the sand.
You'll need to let this dry over night before you hang it. The next day, you'll want to shake off any extra sand again.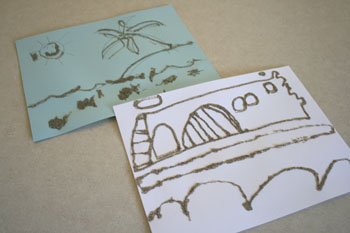 Now they're ready to display. These are going to look great in our Beachy Bathroom!