You guys!! I'm so excited to share my finished granny square blanket with you. It's been such a fun project to complete. I am so happy to partner on this project with Lion Brand Yarn. Me and Vanna go way back ;) It was a perfect match up!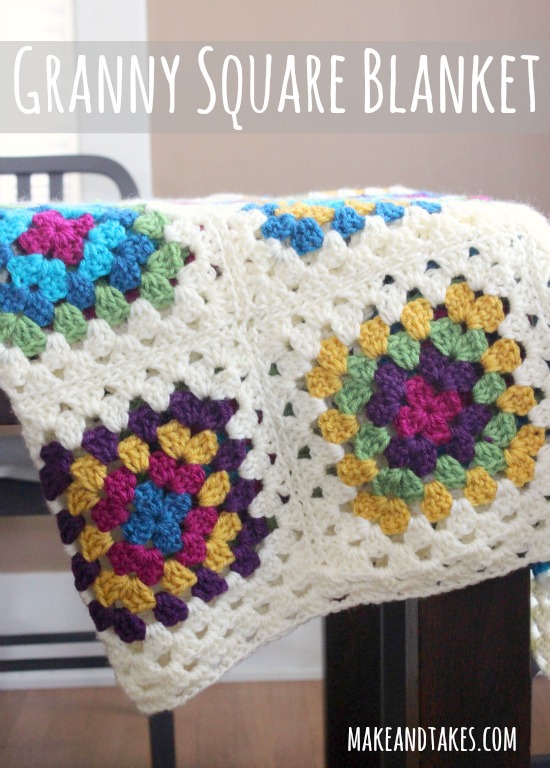 I've talked about crocheting granny squares before, but I wanted to dive into changing colors for each layer and stitching squares together to form a blanket. I'm calling this my lapghan, as it's perfect for a lap. But we could also call it a granny patch blanket, as it was fun to bring in a quilting aspect to this blanket as I patched the pieces together. It was my love of quilting mixed with crochet.
Crafter heaven!!
Here is what you need to make this Granny Square Blanket:
yarn (3.5 oz, 170 yd)
4 skeins of cream, 1 skein each of 6 colors: purple, dark blue, green, berry, yellow, aqua

crochet hook I

crochet needle
scissors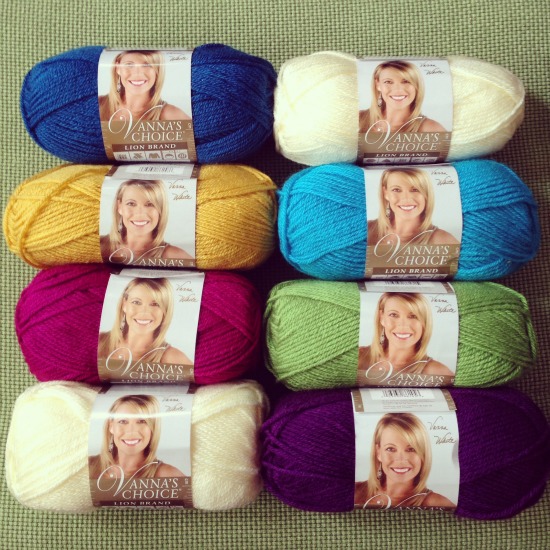 ** I've shared this before, but watch this video for a great tutorial on a basic granny square:

http://youtu.be/79zZJjXRfSM
For my blanket, I crocheted 24 granny squares with 6 rows in each. 4 colored rows and 2 cream rows. I switched up each of my 24 squares with alternating colors. Not one of the squares is the same. There are a lot of ways to do this, (see my 
crochet pinterest page for all kinds of fun granny square patterns
) but I chose to make each one a little different. They are all coordinating colors, so I think it worked out nicely.
When I was done crocheting each color in a row, I finished off the row by pulling the yarn through tight. Keep reading for how I crocheted it all together!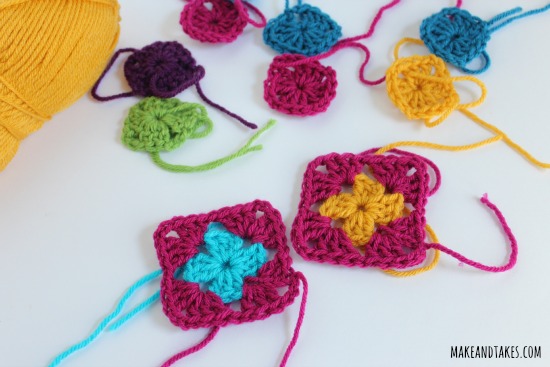 To add on another color, make a slip knot over your hook and pull it through one of the spaces on your previous row. Chain 3, double crochet 2, chain 1, and then continue around your square. Do this for each color. I found making each of the squares was pretty quick work.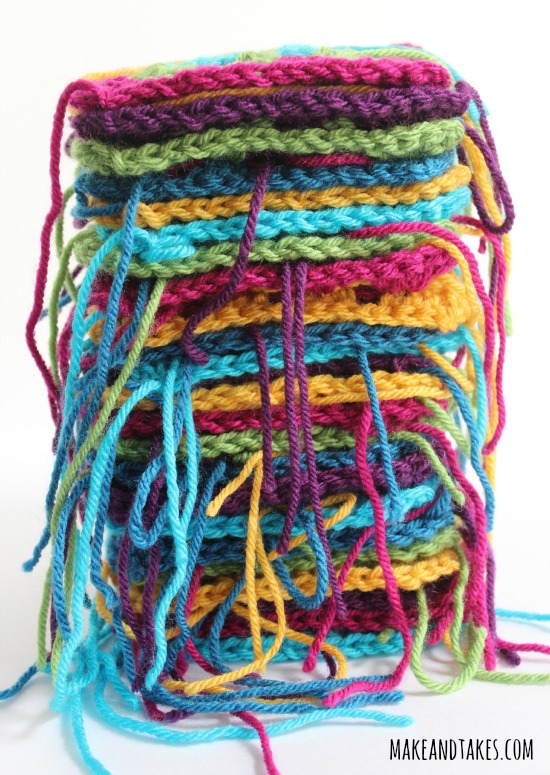 I waited to hide all my tails in until the end. That almost took more time than the actual crocheting. But I put on a movie and got to work! Thread each of the tails with your crochet hook and stitch them back through the yarn to hide. Cut off any extra yarn.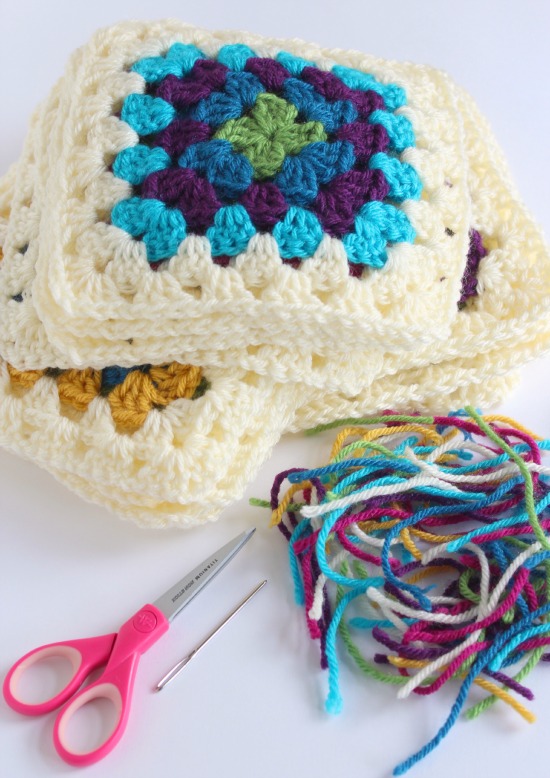 Now comes the fun part, patching it together. Once I had each of my 24 squares complete, I laid them on the floor and started to patch them together. I had my little helper with me. We were checking to make sure the centers and 4th rows of each square were not the same colors next to each other.
I placed a post-it note onto each of the rows to remember which came first, I had a photo of it in case anything got mixed up, and piled them together.
For stitching up each of the squares to form the blanket, there are a few ways you can do this. It all depends on the look you'd like it to have in the end.
I used the hidden whipstitch seam method. Here's a great graphic photo from Lion Brand.
This was super simple to do. Thread your crochet hook onto your yarn. You'll need the length of yarn as long as your squares. Whipstitch through the back V loop on each crochet stitch, pulling the yarn tight as you go, about every 15-20 stitches. Once your yarn is all the way through the square at the end, pull it tight once again. Tie it off, cut the end, and hide in your tail.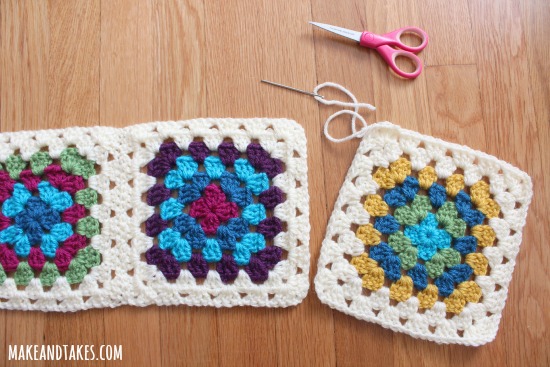 Do this for each square in the row. And again for each row in the blanket.
Once you've hidden all your tails from joining squares, you can be finished there. But I chose to add 2 more rows of double crochets all around the blanket for a border. It helped make it a little bigger and finished off the piece. I could even add on a few more rows later, if I feel like I want a litte more color or thickness to it.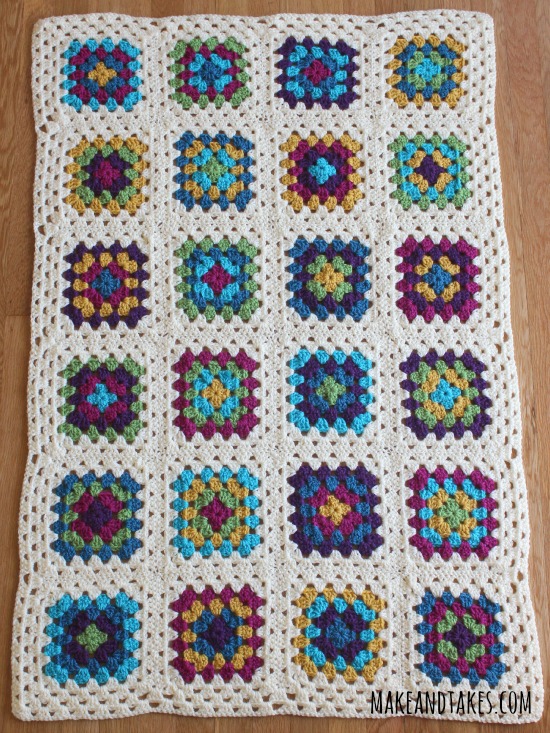 Tada!! I'm done. I love it. And we've been snuggling in it all week! I really hope this helps to inspire you to crochet, making a granny blanket of your own. There are so many fun ways to do this and you'll love the result!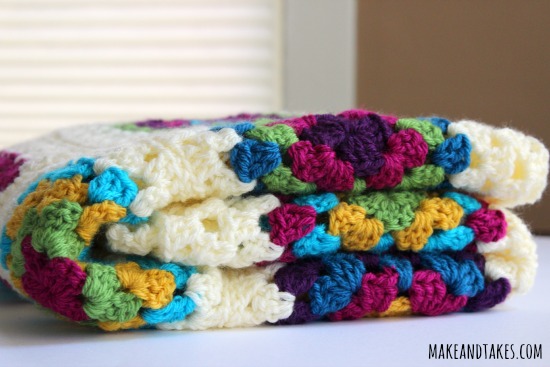 Thanks again to Lion Brand Yarn for sponsoring this project. Find them on facebook, twitter, and pinterest for yarn project inspiration!