Are you ready to celebrate Taco Tuesday? We've got delicious our Grilled Fish Street Tacos Recipe for you this week that are perfect for grilling in the backyard this summer. If you are having guests over, then use our previous tips to set up a taco bar too.
Living in California for a number of years, fish tacos were a staple in our house, and now that we've moved to the east coast they still can be, there will just be more homemade versions like these easy grilled fish tacos.
Grilled Fish Street Tacos
These grilled fish tacos take no time at all to whip up. You can even make everything you need on your grill. We used a cast-iron skillet on the grill to cook the fish and you can also make the red cabbage and corn in a skillet as well so there's no need to be cooking both indoors and outdoors.
What to pair with grilled fish in tacos
Salsa
Lettuce, tomato, cheese, and onion
Mexican-inspired rice
Our homemade slaw recipe (below)
If you want to get a little crazy, a staple in California is a California burrito (Carne Asada and fries). This burrito is often made with fish too. Make it taco-style, the kids will love it.
The best fish to use for tacos
Cod (which we used)
Flounder
Snapper
Salmon
Halibut
Mahi-mahi
What I love about these tacos is you can grill the slaw and fish at the same time and have a healthy meal ready to eat in about 10-minutes (20-minutes with prep time).
About street tacos
Street tacos use the smallest corn tortillas and are normally made with ground beef, pork, or chicken. They are meant to be more of a snack than a full meal, however, we find that most Mexican restaurants that we go to will serve three as a meal with assorted sides such as chips, refried beans, or rice.
They are small, quick and easy to put together, and very tasty. My son always chooses chicken street tacos when we eat out at Mexican restaurants. However, that's not to say you can't use fish, it might not be traditional, but it is healthy, and delicious.
How to grill fish
We used a cast-iron grill skillet on the grates. The cod was seasoned with a pinch of salt, pepper, and paprika before grilling. Grill over medium-high temperature, turning once. The fish is cooked once it becomes flaky and is no longer translucent.
How to make red cabbage slaw
This red cabbage slaw is so quick and easy to make and can be cooked in a separate skillet on the grill right next to the fish.
We used red cabbage, corn, serrano chilis, lime, and green onions to make this slaw. You can mix the Mexican crema through it too before serving, but I prefer to serve that separately as not everyone may want a creamy dressing on their taco.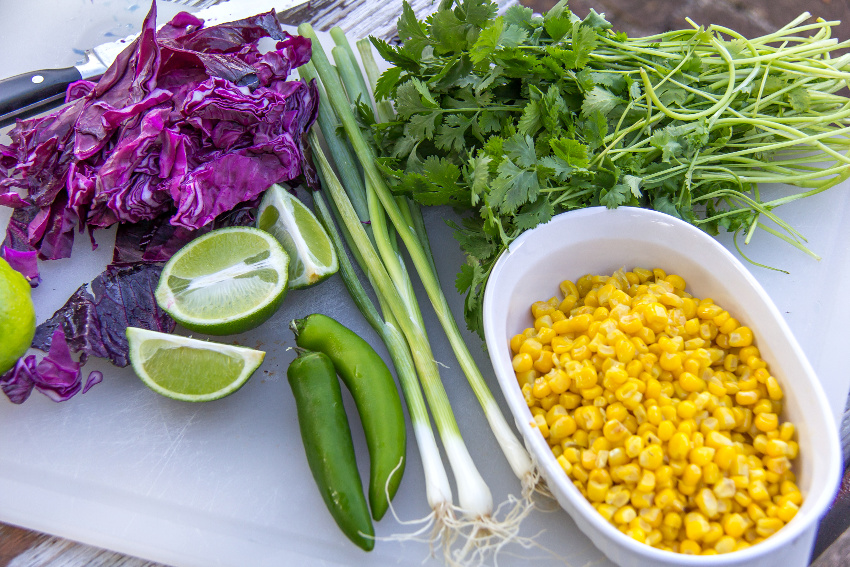 In the skillet combine the corn, red cabbage, 1 serrano chili, half a lime (juice only), 3 green onions (white section only), and taco seasoning until the cabbage is softened.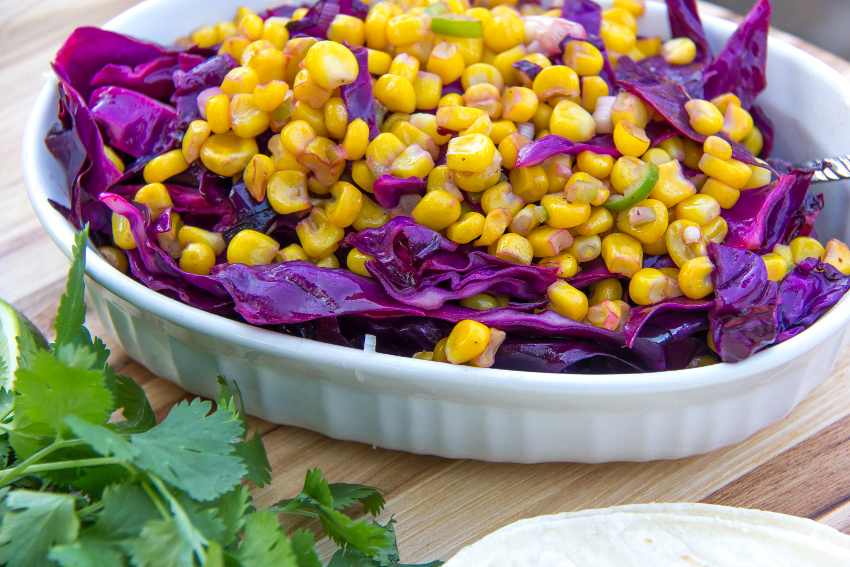 As I mentioned above, prior to serving (and once the slaw is cooled a little) you can mix through a Mexican crema. However, I like to leave that and top the fish with it. It gives everyone the option of whether to have it on their own taco.
Assemble your taco
While the slaw is cooling a little, you can through your corn tortillas on the grill too. They just need a minute or two on each side until you can see some grill marks or brown spots. Don't over-grill them though or they'll break when you try to assemble the taco. You want to still be able to create a pouch for your taco filling.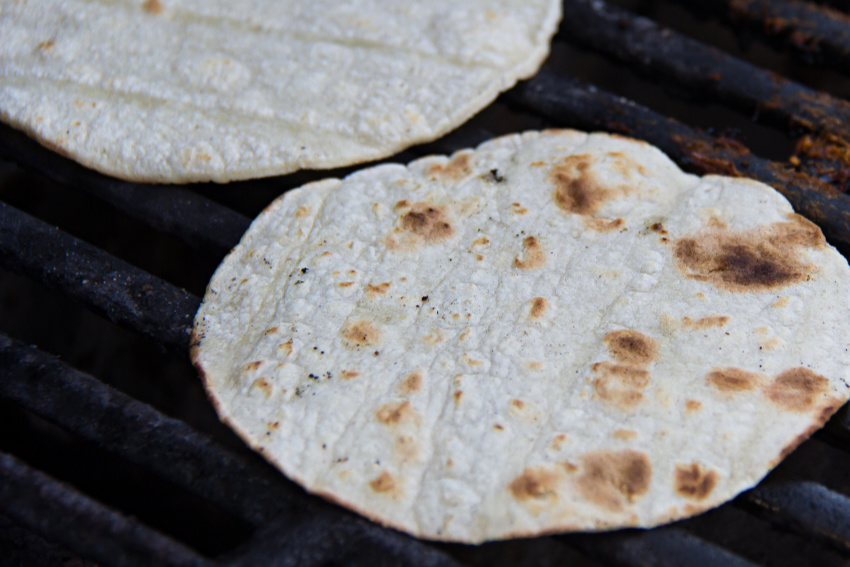 Serve your grilled fish tacos with the red cabbage slaw, Mexican crema, freshly squeezed lime, and fresh cilantro.
Please Pin Post For Later: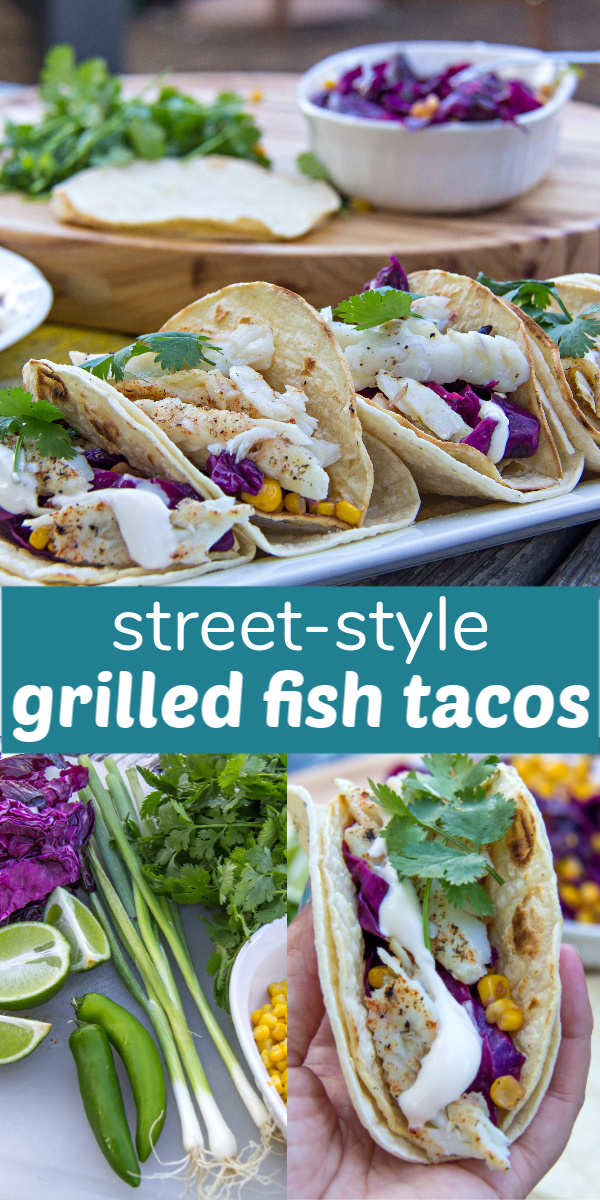 Grilled Fish Street Tacos
Delicious grilled cod with cabbage slaw in small corn tortillas.
Keyword:
cabbage slaw, fish taco, grilling recipe, summer recipe, taco
Ingredients
4

filets

cod

1

pinch

salt

1

pinch

pepper

1

pinch

paprika

1

tbs

olive oil

1

cup

red cabbage

1

lime

1/2

cup

corn kernels

1

serrano chili

(finely chopped)

3

green onions

(white part only chopped)

1

tsp

taco seasoning

2

small corn tortillas

(per taco)

cilantro

(garnish)

Mexican crema

(garnish)
Instructions
Season the cod with salt, pepper, and paprika.

Grill the cod on a skillet on the grill grates, turning once, until cooked through.

In a second skillet (and at the same time) combine the red cabbage, corn, serrano chili, green onions, taco seasoning, and the juice from 1/2 a lime with a little olive oil. Stir occasionally until the cabbage is softened.

Grill the corn tortillas for a minute or two each side until brown marks appear.

Assemble your tacos with the cabbage slaw, flaked cod, and top with Mexican crema, cilantro, and lime juice.