To get ready for Easter, we're recycling egg cartons into fun little baskets. Grass seed grows pretty fast, but I am starting 3 weeks early, in hopes to enjoy it a little before Easter is over.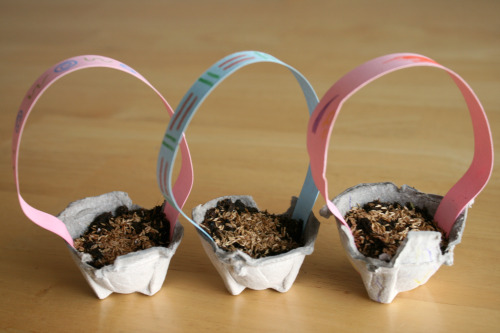 Supplies for Growing Easter Grass:
egg carton cups or mason jar
paper strips – 1/4 inch wide 7-8 inches long
stapler/glue dots
clear plastic wrap
dirt – potting soil works great
grass seed – any kind available in the garden section of the store. Mine is Kentucky Blue grass and is what we use for our outside grass to fill in holes.
markers or color pencils to decorate
Cut apart your egg cartons into singles and trim the edges. We decorated the paper strips then attached them with glue dots. But if you want to make sure they stay secure, staple them on. And add a layer of plastic wrap to the bottom before adding the dirt, just to keep the egg carton from stealing all the soil's water.
Next, we filled the cups with dirt and added a layer of grass seed. I topped them off with just a little bit more dirt. Then we watered them good, you will need to keep these moist.
We also planted some Easter grass in a small mason glass jar. It will be fun to see how the grass grows inside the clear jar.
I will post again soon when our grass seed has begun to sprout. We can't wait to see it grow.
*** Here's how our Easter Grass turned out! ***