If you're looking for a fun handmade gift to give to mom, dad, or the grandparents, then this handprint Christmas tree apron is the perfect present. Our whole family got involved in creating this one of a kind tree!
Supplies for Handprint Christmas Tree Apron:
apron – plain white is best
fabric paint – Thanks, DecoArt
paint brush
hands – all sizes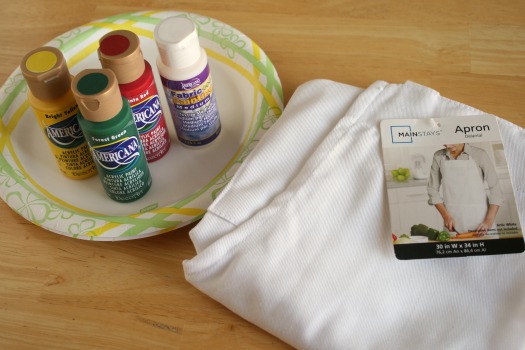 1. To create the tree look, start with the largest hands at the bottom. These are dad's hands! Then using your paint brush, paint the green paint onto each person's hand and have them press it into the apron.
2. Continue on for each person, painting and pressing hands onto the apron. For the amount of hands to press, it might depend on how many people you're using. For our tree we have 5 people in our family. So dad's hands made 5 handprints. I made 4 handprints, my son 3, my daughter 2, and my baby 1 handprint at the top.
3. Using a few other colors of paint, red and yellow, make thumbprint ornaments and a star at the top. Each one of us helped with these ornaments, making the prefect tree. You could also add a brown tree trunk. And you could write everyone's name at the top or Merry Christmas in a black permanent marker.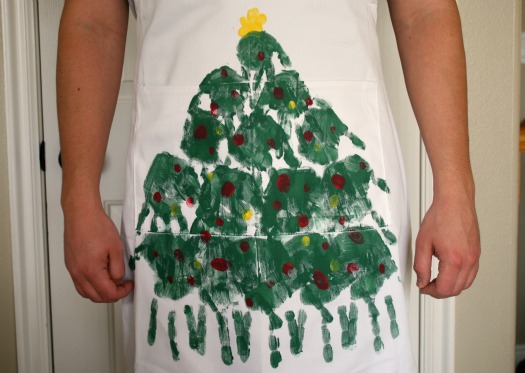 After it's washed, dried, and ironed, it's now ready for a special someone to receive for a gift from our family! Have fun creating your own handmade family Christmas tree.