We're making heart shaped sugar cookies into heart shaped creatures cookies. We made Paper Heart Shaped Creatures last year and thought they'd make cute little cookies too. Here's our cute Butterfly!
Supplies for Heart Shaped Creature Cookies:
sugar cookie dough
heart shaped cookie cutters – all sizes
frosting
candy – conversation hearts, red hots, licorice
Make your favorite sugar cookie dough, then use all sizes of heart cookie cutters to shape them. Then bake your hearts as directed in your recipe. Once the cookies have cooked and cooled, frost them with Valentine colors, red, pink, white, purple. Now decide what creatures you want to make. Place hearts up, down, and sideways to see how they fit together, forming an animal or bug. Then place on candy for eyes, antennae, or legs.
Here's a Ladybug, Caterpillar, Fish, and Bear.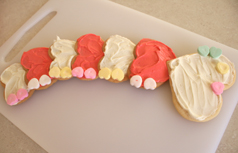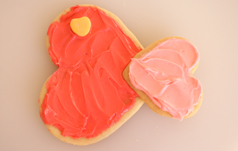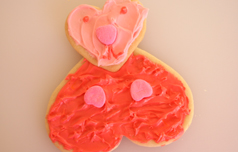 Have fun eating yummy Creature Cookies this Valentines.