Add a sweet, personal touch to Valentine's day favors and gifts with our easy to make heart shaped gift tags. Valentine's Day has always been one of my favorite holidays. Long before I met my husband, we used to make cute little valentine's gifts & cards for our class friends. Everything was handmade. I've elected to carry on the tradition with my own family and enjoy helping my daughter make little handmade gifts for her classmates.
How to make your own heart shaped gift tags!
Supplies for this project: 
Paper tapes in different colors. You can also use washi tapes
White cardstock
Scissors
Hole punch
Satin tape
Embellishments ( optional)
Black marker
Instructions:
On a large cardstock, we drew heart shapes using a marker. You could use a stencil or print out a heart template if you prefer all hearts to be the same shape. We drew one and then used the cut out to trace some more hearts.
Carefully cut out each heart
We decided to cover them in different colored paper tapes. I suggest you stick to complimentary colors like blue + green, gold+ red, pink+ purple. Now layer the tapes diagonally. You can do it horizontally or vertically too.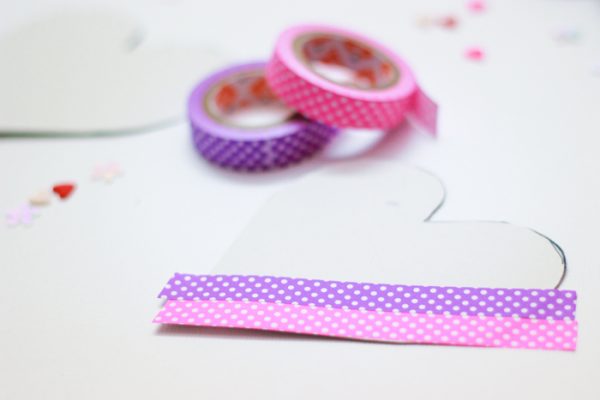 Once all your hearts are covered on one side, carefully trim along the edge. We kept the backside of the hearts plain to add names.
Once all your hearts are covered, we embellished them with flowers, sequins. This step is entirely optional. Using a punch make a small hole and thread your satin ribbons through. That's it, your heart tags are ready.
Use them as gift tags, or cover both sides to use as bookmarks. You could even stick them on a plain card to make Valentine's cards. The project is really versatile.