We are an outdoor family! We love to discover new places, especially with our fun and adventurous hiking scavenger hunt printable! Even in the rainy city of Seattle, you'll see us out and about on some sort of exploration. I've recently found a new area for another family hike about 30 minutes away and I'm excited to take the kids out and about!
Getting us where we need to go, I'm happy to have partnered with Subaru for our next family adventure. To make things a little more fun, I've had Juliann Law whip up this fantastic Hiking Scavenger Hunt printable for kids to mark off as we adventure. We'll be on the hunt for all kinds of nature items, checking them off as we go. From logs and moss to animal holes and insects.
Hiking Scavenger Hunt Printable
Download and print out this hiking scavenger hunt printable. You can make one for the whole family or each child can have their own. We have a color or black and white version. If you pick the black and white version to print out, the kids could do the coloring before you head out for your hike.
Tips for your Hiking Scavenger Hunt:
print out a new scavenger hunt printable for each different hike you go on, seeing what fun items were found
print out and laminate this page to use with a wipe off marker again and again. You can also use a plastic sheet protector as well.
turn your paper over and write down all the other exciting things you spotted
turn your paper over and draw or color something new you found.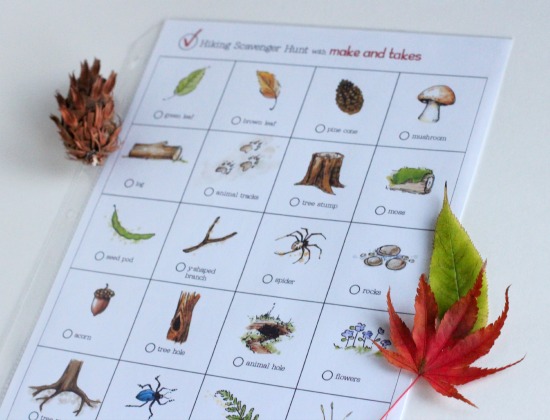 Since we try to find new places to hike each time we go, we're going to print out a new one for every hike. Then we can remember what cool things we found for each place. But… because we live in very wet weather, we'll be placing our paper into a plastic sheet protector to stay dry as we hike and search!
We're all set to head out on our hiking adventure. We'll strap the kids into the Subaru and head out to the woods for some good family fun. I'll be sharing all about our adventures in the coming weeks!
*This adventure was proudly made possible by Subaru. Find yours today.