We're making handmade Christmas cards for our loved ones this holiday season. They are super fun to make, especially for the kids, and they too cute to boot! Not only are these the perfect little gift cards to make and give to family and friends, they also make great place card holders for your Christmas dinner guests!
Kid-Made DIY Christmas Cards
My girls and I love adding homemade touches to gifts, especially at Christmas time. We made some sweet and simple holly cards, which are perfect for mailing to grandparents, hand-delivering to teachers, or using as gift tags. Need a lot of cards? These are easy to make assembly-line style, too!
Holly Jolly Christmas Cards
Supplies:
blank cards (or white card stock folded into cards)
red watercolor paint & paintbrush
green construction paper
red paint
Q-tips
Instructions:
With red watercolor paint, make a simple border around each card. Set aside to dry while you work on the holly leaves.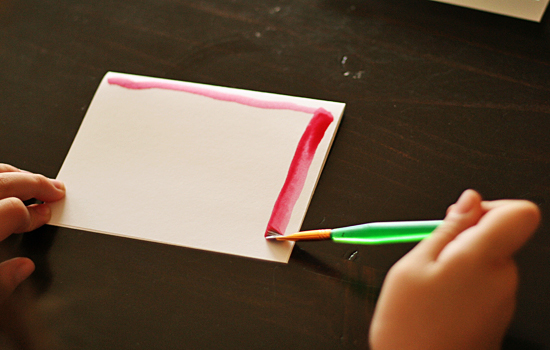 Fold small rectangles of green construction paper in half and draw a simple half holly leaf shape. Remember to draw your leaf on the fold. Cut out two leaves for each card.
Arrange your leaves on each card, only gluing down one side of each leaf, for a fun 3-D look. Remember to leave a little space for the berries.
Add a few red berries to each card with a Q-tip and tempera paint.
Write a little message inside and deliver or mail to some special people. Happy crafting!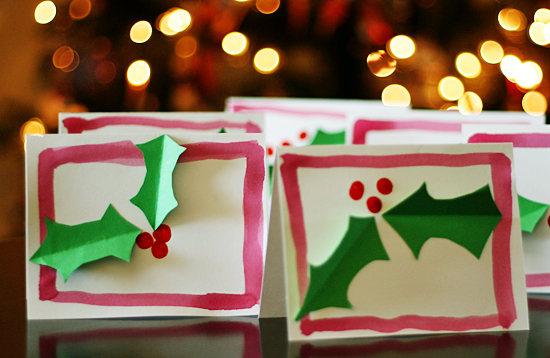 *Originally posted 12/9/13