Easy Italian Pasta Salad with salami, mushrooms, mozzarella balls, cherry tomatoes, red onion, fresh parsley and zesty Italian dressing! Make it ahead of time if possible, as the flavor intensifies as it sits in the fridge! This recipe is perfect for a simple lunch or a quick dinner option. It's also a great pot-luck recipe for a dinner party.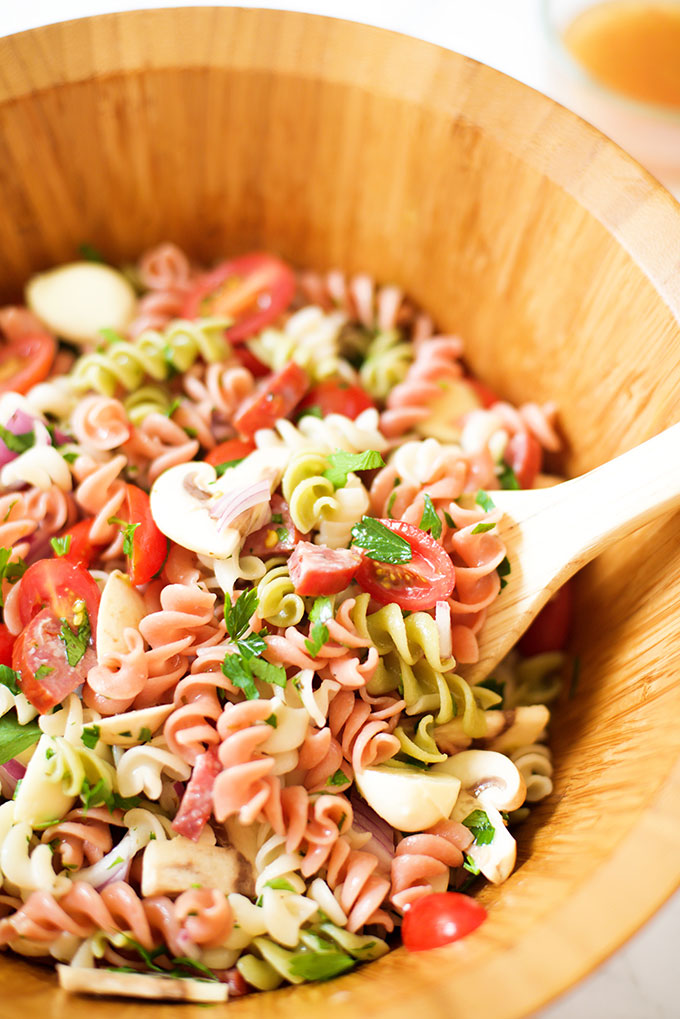 This pasta salad is just perfect for parties, barbecues or quick mid week meals.  It is so easy to make, appeals to children and adults alike, and can be the perfect solution for picnics, as it packs perfectly in containers.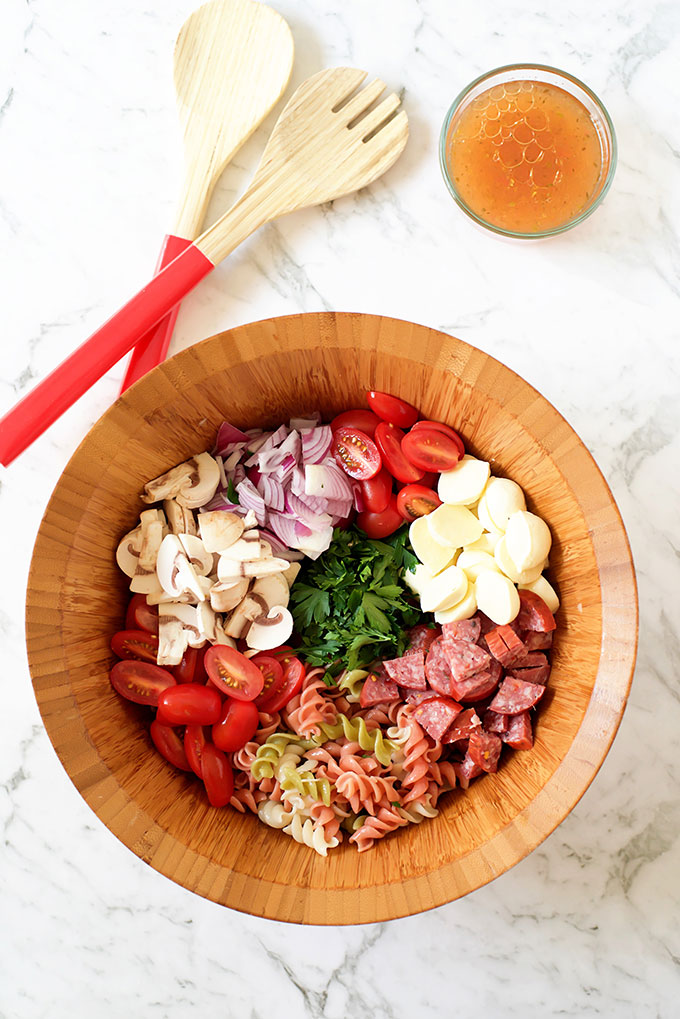 I love Italian flavors and knew everything will work perfectly in a pasta dish. Sooo good J The Italian dressing makes this salad even more irresistible!
It is customizable depending on what veggies or pasta type you have on hand.  The combination I have used is just perfect! But if you don't have any of the ingredients, don't worry. You can add or substitute with cucumbers, olives, peppers, even broccoli, if you are a fan.
Give it a try! Everyone will rave about it, especially the kids!
Italian Pasta Salad Recipe
Ingredients
16oz box of tri color rotini, cooked or other small pasta of choice
1 cup thick salami slices, cut into big pieces
1 cup mushrooms, sliced
2 cups mozzarella balls, halved
2 cups cherry tomatoes, halved
1 cup fresh parsley, chopped
1/4 cup red onion, sliced
2 cups Italian dressing
Method
Cook pasta according to packet directions. Drain and rinse under cold water to stop it from cooking further. Allow to cool down a bit before adding to a large bowl. You can add a bit of olive oil and give it a good toss to prevent pasta from becoming too sticky.
Transfer cooked pasta to a large bowl.
Add the other remaining pasta salad ingredients to the bowl. Drizzle over Italian dressing and toss to combine.
Refrigerate your italian pasta salad if you are not serving immediately. Remove from fridge and allow 15 minutes before serving.