Have your kids painted with marbles before? You drop paint-covered marbles into a box and roll them all around to paint your paper. My girls were always first in line when that activity was on the preschool art table. But how about a wintertime twist – jingle bell painting!
Supplies for Jingle Bell Painting:
jingle bells
paint (washable is best, since your bells might jump out of the box!)
cups for paint
spoons
paper
box or dish tub
Choose your paint colors and put your paint in cups.  You don't need a lot of paint, just enough to get your jingle bell coated. Choose colors that will look good together when mixed – too much red and green together will make brown! We went with two shades of blue plus some shiny gold.
Stir a jingle bell around in each color until it's covered with paint.
Lay a piece of paper inside your box or tub. We went with a sturdy card stock. Scoop out each jingle bell and drop it onto your paper.
Now's the really fun part – start tilting and gently shaking the box to get the jingle bells rolling. The paint dampens their sound a little, but we still heard enough jingling to feel festive! Feel free to belt out Jingle Bells while you paint.
Keep tilting and shaking until you're happy with your paper. Then replace with a fresh piece of paper, get your bells all painty again, and repeat!
Once your creations have dried, you can make all kinds of things with the pretty painted paper. We chose to cut our paper into gift tags for our Christmas gifts this year. I also added a white label to the center of each tag for easy writing.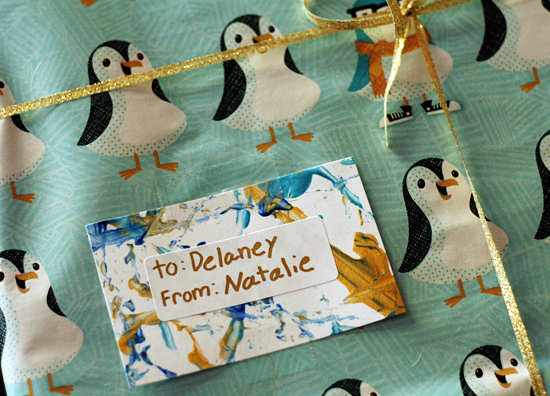 Jingle bell paintings would make lovely cards or bookmarks, too. Happy creating!