Oh, dear cardboard! We love playing with you. Some of the best games and toys we made was using cardboard. Tic Tac Toe is one of them. However, this one is special, because it's magnetic and you can play it right on your fridge. Perfect way to entertain kids right in your kitchen while preparing dinner!
Materials for Tic Tac Toe
Cardboard
Magnets
Glue gun
Marker
Cut out circles out of cardboard. You need 10 of them. Then, using marker draw 5 "X" sings and 5 "O". Flip the cardboard circles over and using hot glue attach the magnet pieces.
Your Tic Tac Toe game is almost ready. To play it you need to draw big hashtag sign on the fridge (we used white board marker for easy clean up) and let the fun begin. My daughter adores Tic Tac Toe game and she could play it for hours.
I love this version of Tic Tac Toe game because now I have 10 extra little magnets on my fridge that I can use to attach kids' drawings and little notes.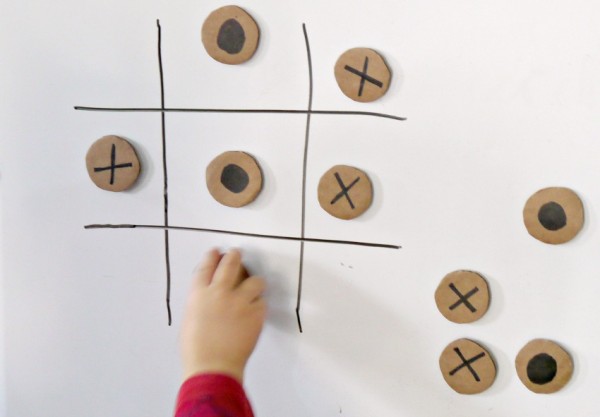 Here, on Make and Takes we love playing the Tic Tac Toe. Here are other adorable ways to make and play this game: