I really struggle with what to eat for lunch. It's an odd time of day. I don't want to cook a big meal, I'm not feeling like leftovers, and I don't want to eat off my kids plates… I'm trying to eat healthier and keep up those New Year's resolutions! So I love the idea of make-ahead salad prep for lunch. I've found 13 fabulously quick and easy mason jar salads I can whip up ahead of time and have ready to eat all week. Shake them up and you're ready to eat!
13 Make-Ahead Mason Jar Salads
How quick and easy are these? Buy a set of mason jars and prep anyone of these 13 Make-Ahead Mason Jar Salads for a simple healthy lunch!
1. Pack the Perfect Mason Jar Salad – This step by step tutorial will help get you off to a great start making mason jar salads! (via Popsugar)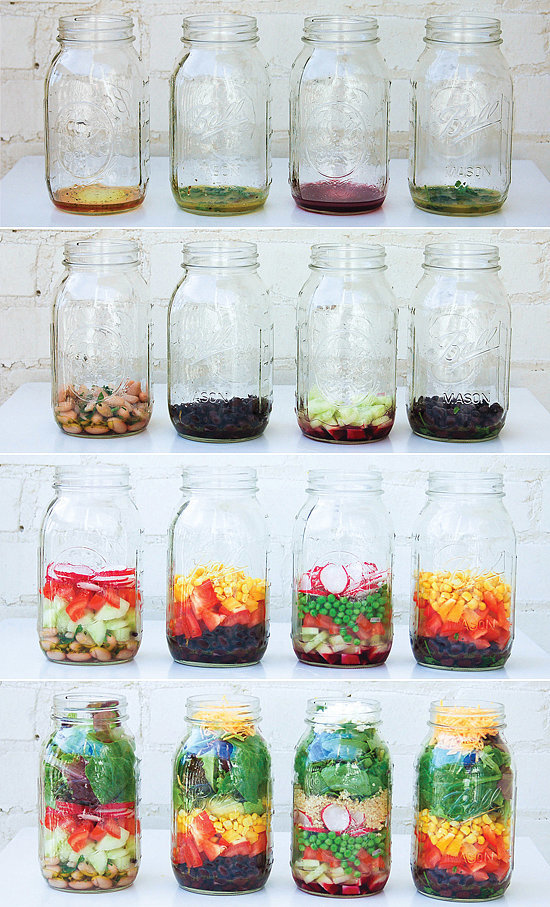 2. Mexican Chickpea Salad– Chickpeas and salsa turn this Mexican inspired salad into something special! (via Wholefully)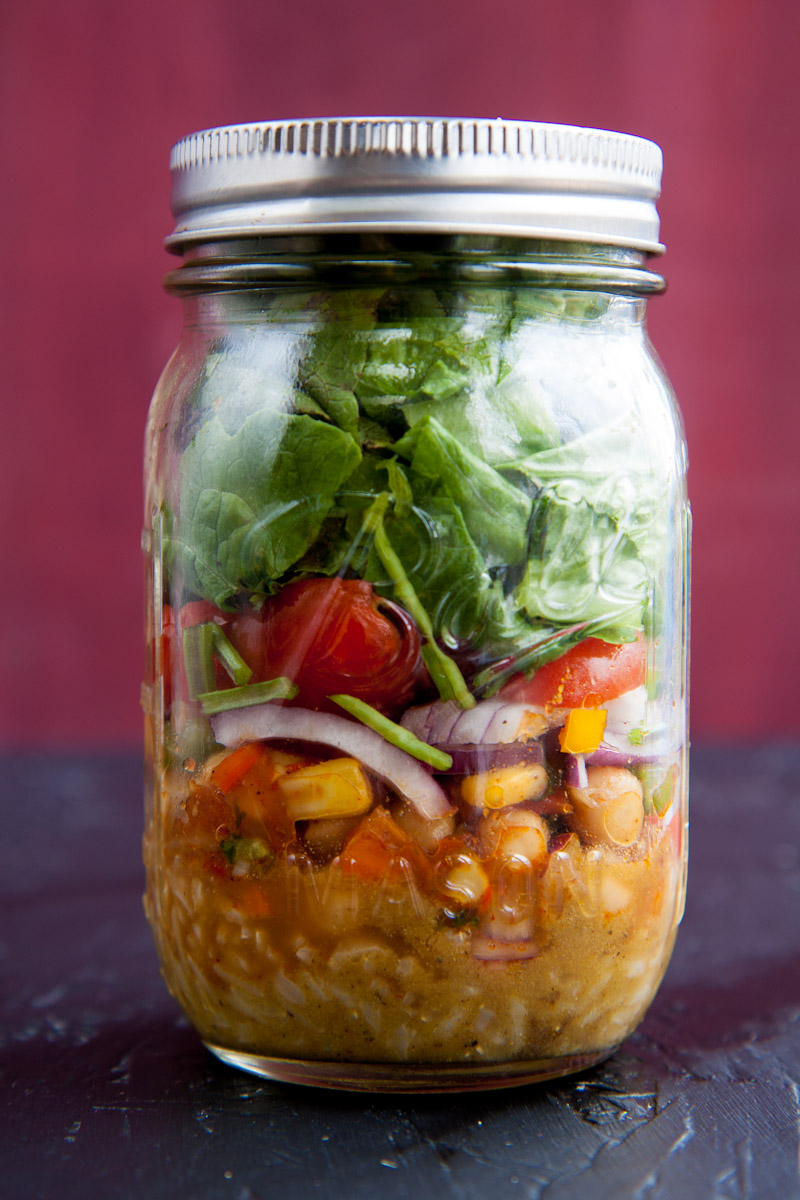 3. Walnut Apple Mason Jar Salad– The amazing mix of color, texture, and flavor makes this salad a total winner! (via Eat Within Your Means)
4. Ranch Chicken Salad– Chicken salad + greens make for an awesome salad combination! (via Food for My Family)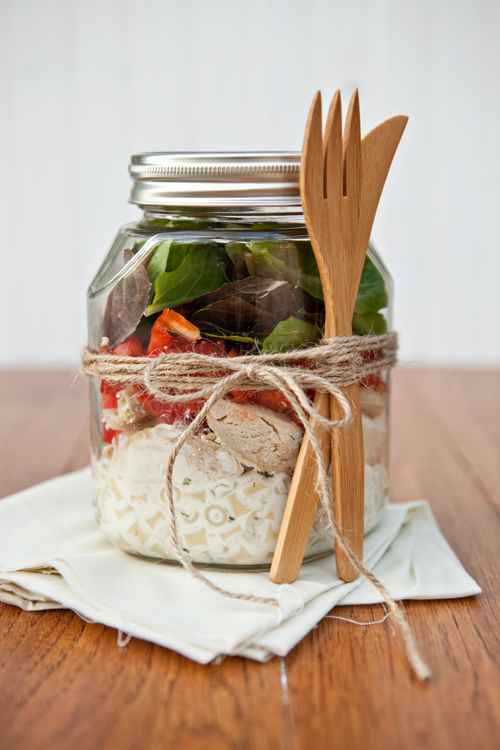 5. Egg Salad Mason Jar Recipe– Yes, you can make potato salad into a mason jar salad, too! YUM! (via Make and Takes)
6. Layered Quinoa Salad with Beet Vinaigrette– Wow, just look at the colors in this layered mason jar salad! The beet vinaigrette really pops! (via Marla Merideth)
7. Mason Jar Fruit Salad– Mason jar salads don't have to be savory! This fruit salad is topped with a whipped cream for a sweet treat! (via Mason Jar Crafts Love)
8. The Southwestern Black Bean Salad– Try a southwest take on the mason jar salad. This one's perfect for bringing along to work! (via Eat Spin Run Repeat)
9. Pasta Salad in a Jar– You can pack pasta salad in a mason jar, too! (via The Organised Housewife)
10. Mason Jar Zucchini Pasta Salad– This salad has fresh zucchini "noodles" instead of lettuce! (via Sugar Free Mom)
11. Lemon Dressing Salad in a Jar– This fresh, colorful salad is topped with a homemade lemon dressing! (via A Beach Cottage)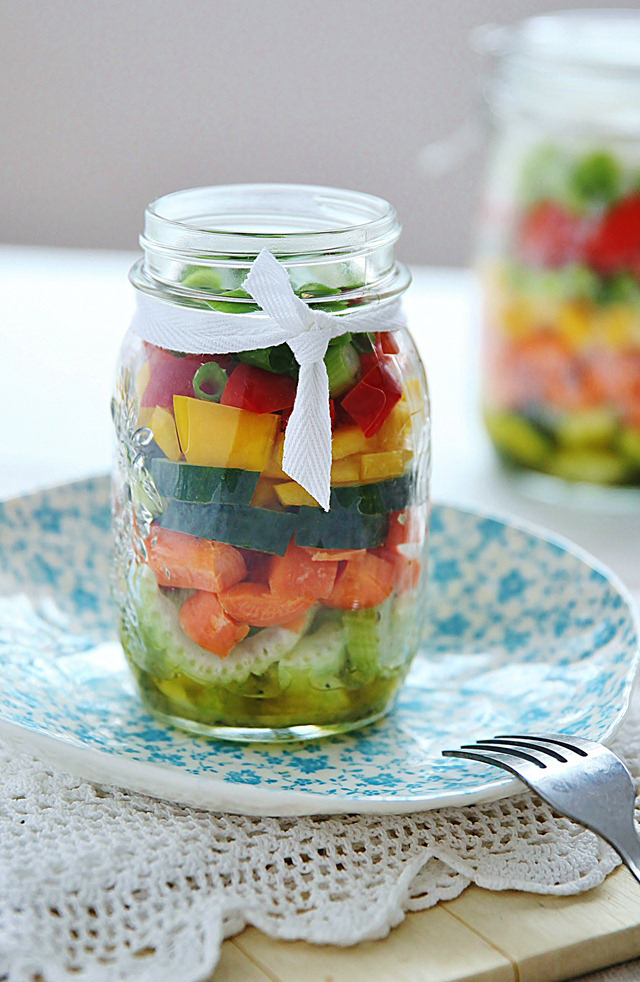 12. Shrimp & Feta Cobb Salad– This isn't your ordinary salad- shrimp and feta make for a salad that's truly extraordinary! (via Savor the Thyme)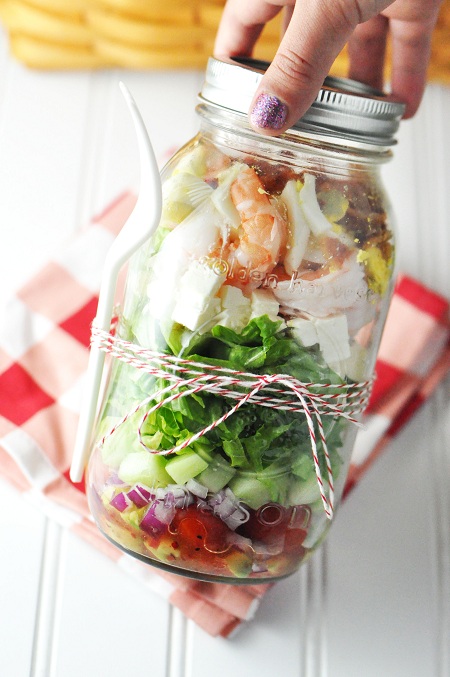 13. Asian Noodle Salad Jars– If you want to switch things up a bit, try this asian noodle salad jar! (via Foxes Love Lemons)
Lunch time just got a lot easier! It's so simple to eat a healthy, homemade meal for lunch when it's already packed neatly in a jar. Happy eating!