In my experience, most kids are intrigued by the idea of painting and printing with tools, gadgets, toys, and other household objects. It's fun to paint without brushes and see all the neat shapes you can make. Stamping tools to make jumbo Valentine hearts is a fun project for toddlers and preschoolers. It combines our love of unusual painting tools with a jumbo paper heart for Valentine's Day.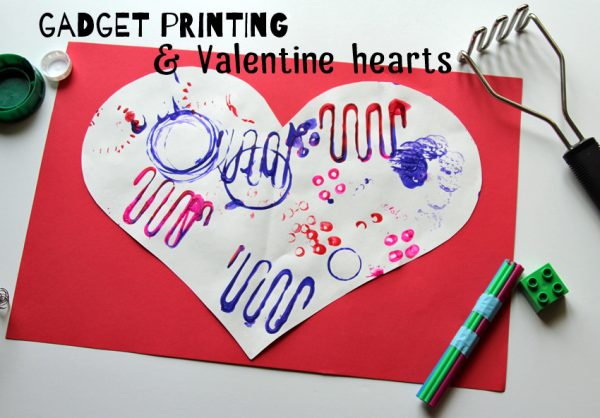 Creative Jumbo Valentine Hearts
My four-year-old loves gadget printing, especially when the potato masher is involved! Be sure you choose items from the recycling bin or ones that are easily washable.
Supplies:
large drawing paper or construction paper (we used 12″ x 18″)
washable tempera paint
paper plate for paint palette
various objects for printing – kitchen tools, lids, Legos, straws, sponges, etc.
scissors, glue stick
Instructions:
Cut a large heart from white paper. Gather five to seven items to use for printing; I find that amount to be plenty of variety without being overwhelming. This time, we used a potato masher, small toy whisk, two lids, a cork, a Lego Duplo block, and a bundle of plastic straws.
Put a few colors of washable paint on a paper plate, and use a brush to spread the paints out in a thin layer. Now, you're ready to print! Dip the objects in one or more colors, then make prints on your heart paper.
It's always fun to see which tools my little guy enjoys the most. This time, he was really into the big juice lid, the potato masher, and the Duplo block. He also loves to stand while he's doing projects like this, so I just set him up at the kitchen counter with a stool. Whatever keeps him happily occupied!
Continue dipping and printing until your Valentine masterpiece is complete. Set aside to dry completely. Then, you can display it as is, or glue it to a piece of colored construction paper.
We're planning to make lots of gadget-printed Valentine hearts, so we have plenty to share with people we love!