We're a big camping family, we try to go a few times every summer. After sleeping in our sleeping bags in our tent with either no pillow at all or a regular sized pillow that's way too big, I decided to make my own that would fit our sleeping bags perfectly!
These mini pillows slide right into the top nook of the sleeping bag, allowing for a snuggly night sleep! In my girls sleeping bags, there's actually a small opening for a pillow to slide into, and these mini pillows fit perfectly.
I promise, you'll love these mini pillows for camping!
Supplies for Sleeping Bag Pillows: 
1 regular pillow – I bought an "extra firm" pillow from Target, but you can buy a "firm" pillow if it's too much stuffing to sew
scissors
sewing pins
sewing machine – or you can use a needle and thread, but I wouldn't recommend it
1 regular pillow case
1. Take your scissors and cut your regular pillow into fourths. You can trace a line with a pencil or just eye-ball it. Cut it in half one way, then cut each half once again to make 4 small rectangles.
2. The stuffing will expand quite a bit. You'll need to do your best to stuff it back in and hold the cut sides closed. You can use pins to keep these in place before you sew them closed.
3. Press the stuffing as far to the side as you can, line up the fabric ends, and sew along the line 1/4 of an inch in. There will be 2 sides to each pillow to sew up. I used a zig-zag stitch to make sure no stuffing would come out. I also used a bright pink thread to match the pillow text!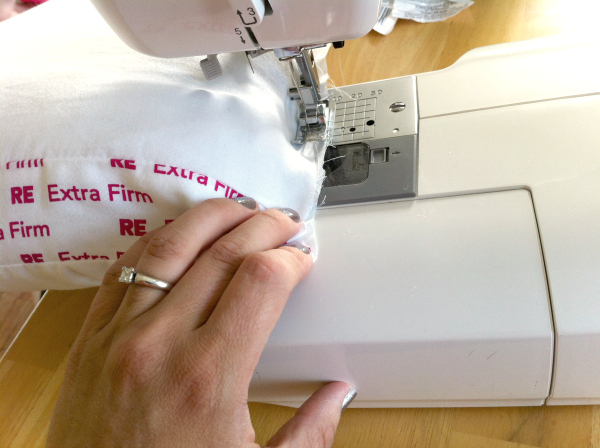 4. Once you have all 4 of your pillows sewn, it's time to sew a pillow case. You'll line up your pillows on top of your pillow case and cut it into fourths, just like the pillows. I just eye-balled it, but you can measure it out and add a pencil line.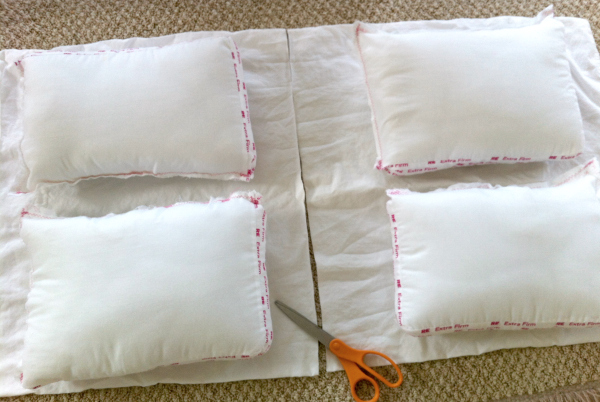 5. Sew up just one side of your pillow case to leave an opening for your pillow.
6. Add your pillow to your pillow case and it's ready to go! Time for camping or a sleepover with cousins!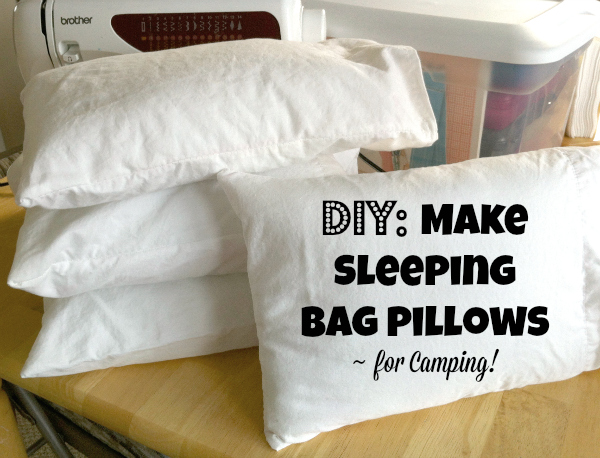 Have fun with your new and improved sleeping bag pillows!
Want more family camping ideas: