As that lucky Pot of Gold at the end of the rainbow can be tricky to find, we decided to make our own. With just a few supplies, you'll have a fun centerpiece filled with gold.
Supplies for Pot of Gold:
pot – terracotta pot, or a black pot you may already have
black paint and paint brush
Easter grass
yellow wrapped candies – these can be gold chocolate coins, yellow foil wrapped chocolates, Reese's peanut butter cups (you can use any color of candy, but yellow keeps with the 'gold' theme.)
pipe cleaner (aka chenille stems), all colors of the rainbow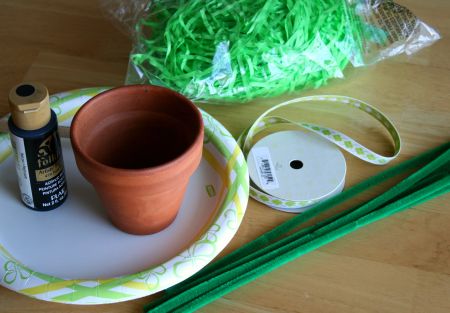 Paint your terracotta pot with the black paint using your paint brush. I even went an inch down on the inside with paint. Then let it dry. Next, fill you bucket with Easter grass all the way to the top, as it gets pushed down with the candy. Then add in your 'gold', filling it to the top.
Line up your pipe cleaners into a rainbow. I stuck them all in the pot at one time, but you could put them in one at a time, starting with the bottom one first.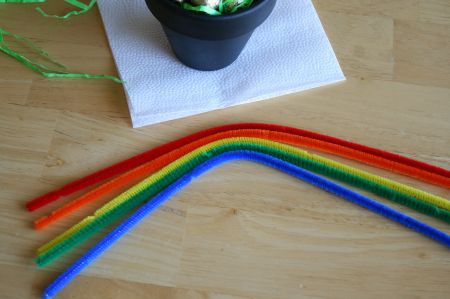 Now it's ready for display. But have extra gold on hand, as it doesn't last long in the pot! Little Leprechauns keep trying to sneak it!