I love to grow vegetables in my garden. I have 2 little 4×5 foot garden beds I made about 4 years ago and they've been providing me with fresh veggies each Summer. Last year I gave up one of the beds for a raspberry patch, leaving me with only one bed to grow vegetables. So I decided to try square foot gardening this year, to help maximize the small space I have to grow the most vegetables.
Square Foot Gardening
Supplies:
garden bed, filled with a mix of soil and compost
ruler
pencil
twine – something that will last through rain or shine
tape
staple gun – you can use stakes if you don't have a wood frame for a garden bed
vegetable seeds or starter plants – I use a mix of both
Instructions:
Measure out your garden bed by feet. My bed is 4 feet by 5 feet.
Take your ruler and pencil and mark off each foot across each side of the bed.
Pull the twine across your bed, going from one mark to the opposite side of the bed to the second mark, matching them up. Using your tape, tape it down to the frame. Do this for each line across, horizontally and vertically.
With your staple gun, try your best to get the staple right on the twine. It took me 2-3 tries each time. Once all of your twine is stapled down, remove as much of the tape as you can.
Now it's ready for planting.
I created a similar garden bed on paper, so I could see where and how I was going to plant the vegetables I wanted. Look on the back of your seed packets or look online at how each plant is supposed to be planted. Square Foot Gardening was created to help put more plants into an area, not in a row format, but in a square format. I can get more vegetables in this small garden bed than I thought was possible. Here's what I'm going to grow: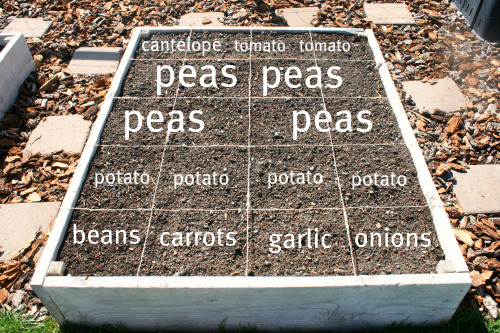 My favorite vegetable to grow are peas, and they can be planted earlier. I like to soak them overnight before I plant. We planted them first, and are now waiting for this Utah weather to warm up enough to not frost, then everything else will get planted. I'm hoping next week after Mother's day is going to be a good week.
We'll keep you updated on the progress of our square foot garden. I'll let you know if it worked and if it's something we'll try again next year!