These cute little caterpillars are currently climbing and inching their way all around our house. With just 2 supplies, make your own simple and perfect little crafty pet.
Supplies for Bead Caterpillar Pets:
pipe cleaners
10-20 assorted (pony) beads for each caterpillar – big enough for a pipe cleaner to fit through
1. Cut your pipe cleaner to your desired length. Our red caterpillar has been cut in half and the purple caterpillars are 1/3 of a pipe cleaner.
2. Place on your beads in any order or color combination you'd like. You can look at some photos of caterpillars and try to match what real caterpillars look like. (These pony beads are the perfect beads for pipe cleaners. I bought this set for $10 in the craft department and it's been worth every penny. We've done so many projects with them and it seems never ending. And it's great to have so many colorful beads on hand.)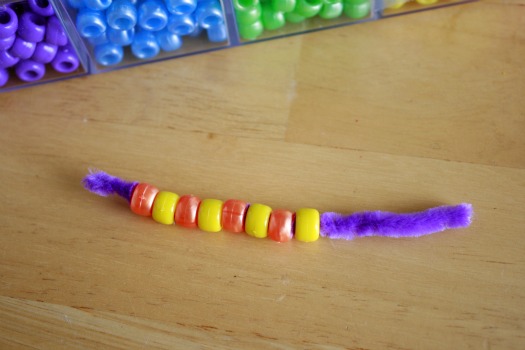 3. Leave 1/4 of an inch at the bottom and 1 inch at the top of pipe cleaner. Curl up both ends to help the beads stay on.
Now bend your caterpillar in the center to give him or her the look of inching along. Who knows, maybe it will turn into a beautiful butterfly soon.