This month is bound to blow by and my thoughts are 100% occupied by Thanksgiving. We are planning out our Thanksgiving menu, and the aftermath. I know that most people don't think about the leftovers, but I do. For one thing, I need to have posts ready to go to help others use up their leftovers. Things like these, Mini Handpies, and Mashed potato cakes are great ways to use up the leftovers so you don't feel like you are eating Thanksgiving for every meal, for an entire week.
However, one thing that is tricky is dessert. It seems to me that I always have scraps of pie crust, or leftover ingredients for inside of the pie (pumpkin puree seems to linger in my fridge for far too long).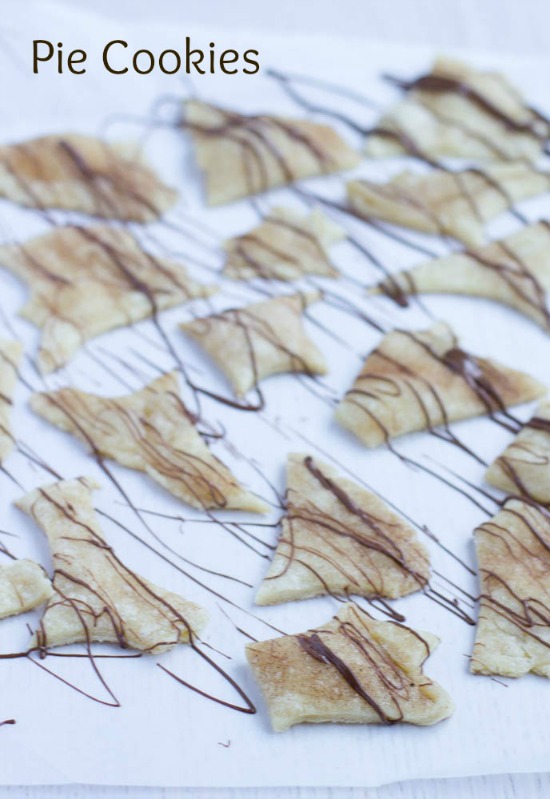 I realize that many of you probably already do this, but I've been surprised to find that the more I talk to readers and friends the more people tell me that they've never done anything with their pie scraps. Growing up I used to dilly dally in the kitchen until the pie crust was in the pan and the scraps scattered on the counter. It was then that my mom would get out a cookie sheet and make "pie cookies" for us kids. Oh my goodness, the smell was amazing, and although they were blazing hot straight out of the oven, I could not wait and would totally risk burned fingers and tongue just to enjoy the flaky, sweet goodness. And I've personally found that many kids would rather have the "pie cookies" than the actual pie! Which is clearly pure craziness, but we will go with it.
*I have to add a quick note, our friends actually buy pre-made pie crusts and then they make these cookies without ever making the pie. What a great idea for a quick treat that everyone loves!
Pie Cookies
1 Prepared Pie Crust (see Here for a homemade recipe)
Cinnamon Sugar
1/3 Cup Milk or White Chocolate Chips
Heat the oven to 400 degrees.
Roll out your pie dough and cut into strips. I've found that doing different shapes and sizes are more fun for the kids. Sprinkle generously with cinnamon sugar, and place on a cookie sheet.
Bake for 8-12 minutes and remove from the oven. Let cool for a minute or two.
Meanwhile, melt the chocolate chips in 15 second increments, stirring in between. Drizzle the cookies with the chocolate and enjoy!