We're dipping mini cookies into white chocolate to create cute little snowmen! They're almost to "cool" to eat!
Supplies for Mini Cookie Dipped Snowman:
mini sandwich cookies – any kind
white chocolate – melted
lollipop sticks or flat craft sticks
bowls
candy – mike and ikes, mini m&ms, mini chocolate chips, or gumdrops
1. Open up 3 mini cookie sandwiches. If you don't have a sandwich cookie, you can still do this with 2 mini single cookies and proceed to #3.
2. Place your stick onto the creme side of the cookies and press slightly, not too much as you don't want your cookies to break. I love to use these flat craft sticks for these dipped cookies. I learned this from these darling Reindeer Dipped Cookies over at The Idea Room.
3. Add a little melted white chocolate to the second side (the top side) of the cookie and close your cookie. Let this white chocolate harden so your cookie won't fall apart as you dip it in the bowl of white chocolate to coat. I placed mine in the freezer for a few minutes to help speed this hardening up.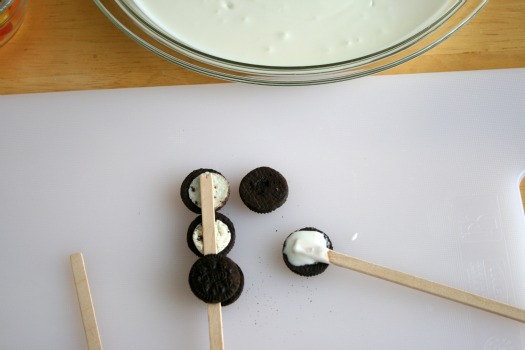 4. Dip your 3 cookies on a stick into the melted chocolate. Use another stick to help coat the whole thing.
Then place it on a plastic cutting board or wax paper.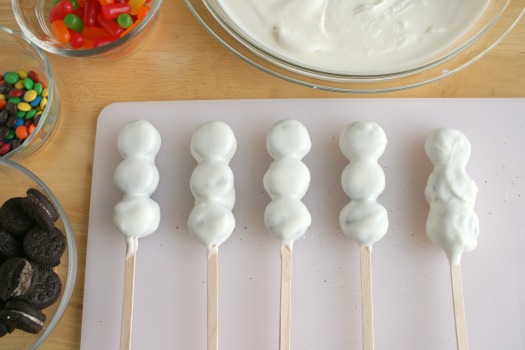 5. Quickly add your candy to the tops of the dipped cookies. If your chocolate hardens too quickly, you can place them in the microwave for a few seconds, then add your candy.
6. Let these harden completely (faster if placed in the freezer) and then carefully pop them off the cutting board.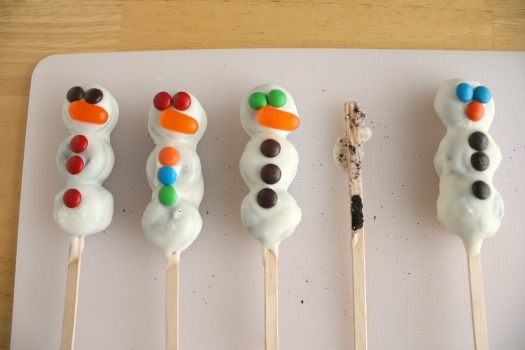 Enjoy these "cool" snowman treats on a cold wintry day!