These crafty mini Lightsabers made from pipe cleaners sprang into action when my son turned 6 and we threw him a Star Wars Birthday Party. They are perfectly paired with lego Star Wars figures or mini action figures, or even just a mini lightsaber battle with tiny hands!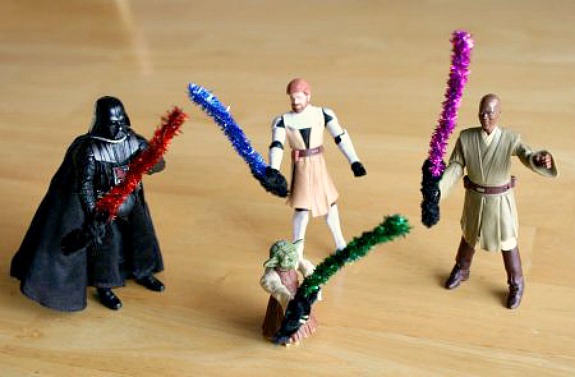 I was coming up with fun Star Wars related crafts and this one popped into my head. They make for great party favors and fit perfectly into little hands.
Mini Lightsabers Pipe Cleaners
Supplies:
Pipe Cleaner (also known as Chenille Stems, Fuzzy Sticks, Pipe Wire). You'll need black and your favorite lightsaber color.
Instructions:
1. Cut only the black pipe cleaner in half then fold it in half.
2. Fold the long red pipe cleaner in half.
3. Make an X with the black and red pipe cleaners and fold them over.
4. Twist up the black one and twist up the red one.
You're done! Now your mini lightsabers are ready for a duel. They even fit perfectly in the hands of your action figures!
Will your lightsaber be Blue, Green, Purple, or dun dun dun… Red?