As a child, the story of Snow White was always magical for me. The mirror, the dwarfs, the apple, and sweet Snow White. So I was thrilled to make a Snow White craft when the creators of the new upcoming movie Mirror Mirror asked to sponsor a couple of my ideas for showcasing the new movie. (Plus Julia Roberts is one of my favorites, so I was happy to jump on board!)
Today we are decorating our own "Mirror Mirror". Our mirrors are hand held, not on a wall, but all the more fun to hold and play with anywhere!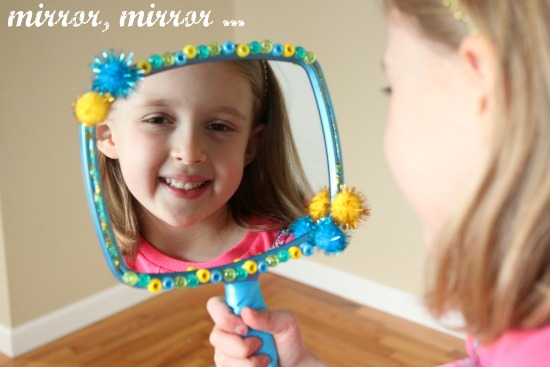 With the amazing costumes and design elements in the new movie, just as magical as the story, it was fun to come up with the colors for decorating our mirrors. My older daughter chose blue and yellow, themed after Snow White's dress in the movie pictured here: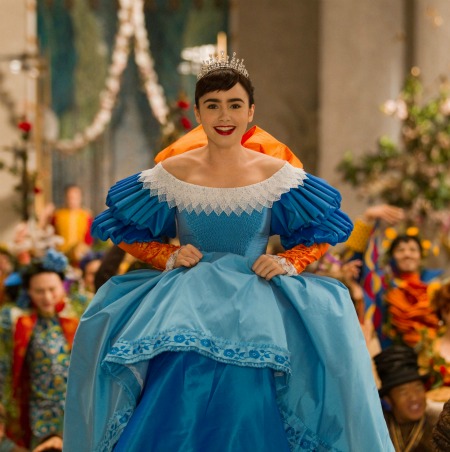 My younger daughter is obsessed with pink, so we paired it with purple to make it bold and fun. This would make a perfect craft for a party. I'm sure there is a princess party in your future if you have any girls in the house!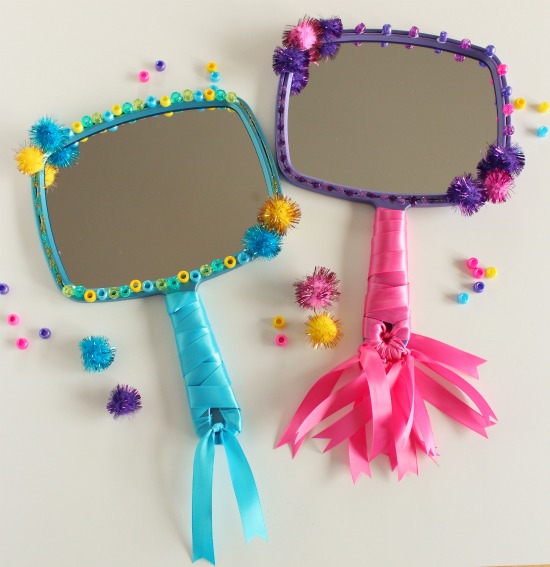 "Mirror Mirror" Snow White Craft
Supplies:
one hand held mirror per child
glue – tacky glue or glue dots work best, or hot glue for an adult to use
pom poms – sparkly kind
pony beads
glitter glue
ribbon – mine is 5/8 glossy ribbon
**really you can add anything with coordinating colors or anything with sparkle. Buttons, sequins, feathers, etc.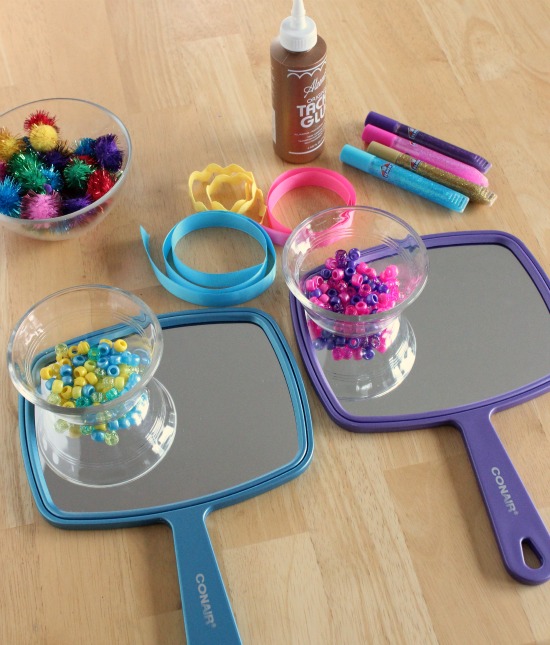 Instructions:
1. Start adding glue to the outside frame of the mirror and add your embellishments. We used pom poms, pony beads, and glitter glue. Both of my daughters are very into patterns, so everything was 1-2-1-2, etc. Love it!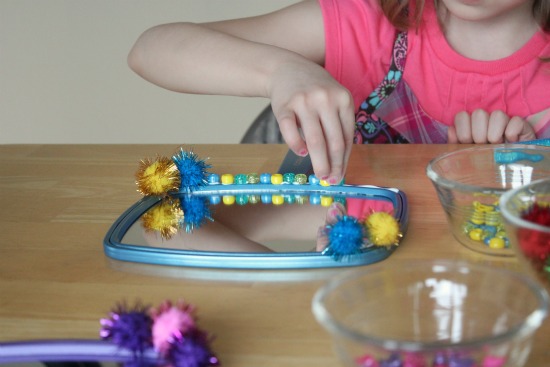 2. Once the top of your mirror and embellishments are completely dry, you don't want anything falling off as you work, add your ribbon. Cut a 2-3 foot long piece of ribbon, long enough to wrap around the entire handle. Put a dab of glue in the center of your ribbon, making sure it is secure, and then start wrapping your ribbon around.
You can simply tie off the ends together in a knot when you get to the bottom, like the blue one pictured below, or you can cut 7-8 more 5 inch pieces of ribbon and tie them off in knots to create a more frilly finish.
I also crafted a mirror for me!! I LOVE Snow White's costume from the ball in the movie where she is wearing white feathers.
So I covered my mirror with feathers and a little ribbon to resemble her look. It's so glamourous, fit for a queen… bwhahahahah (evil laugh)!
With Mirror Mirror coming out on March 30th, I'll be sharing one more craft in a couple of weeks. Just in time to get you excited to see the show.
More About Mirror Mirror
One of the most beloved stories of all time is coming to life in the motion picture event, Mirror Mirror. A fresh and funny retelling of the Snow White legend, Mirror Mirror features breakout star Lily Collins (The Blind Side) as Snow White, a princess in exile, and Oscar®-winner Julia Roberts as the evil Queen who ruthlessly rules her captured kingdom. Seven courageous rebel dwarfs join forces with Snow White as she fights to reclaim her birthright and win her Prince in this magical adventure comedy filled with jealousy, romance, and betrayal that will capture the hearts and imaginations of audiences the world over.  The film also stars Armie Hammer (The Social Network) as the Prince, and Nathan Lane (The Birdcage) as the hapless and bungling servant to the Queen.
Thanks to Mirror Mirror for sponsoring this post.