Moms love anything handmade by their kiddies. That goes for these cute cupcake liner flowers as well. I happen to know Grandmas love them too. So you might want to craft up a few of these with the kids and gift them to a mother you know, letting them know they're loved.
Supplies for Cupcake Liner Flowers:
cupcake liners – 3-6 per flower

pipe cleaners – 1 per flower
scissors
First choose what your flowers will be. Pick out your colors and how many liners you'd like for each.
Pattern Method:
Fold each of your cupcake liners in half.
Layered Method:
Keep your liners in their shape and layer them into the stem.
To Make the Flowers:
1. Fold your pipe cleaner in half and twist it up. The twisting helps keep it a little more sturdy as you add the liners.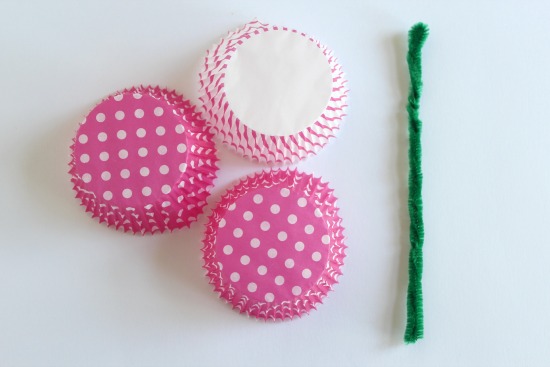 2. Once you've chosen your liners, use the sharp ends of your pipe cleaners to pierce a hole into the center of each liner.
3. Add as many liners as you'd like.
4. Roll up your pipe cleaner one turn for the inside of the flower, helping your liners stay in place.
Now add them to your vase or wrap them with ribbon and they are ready for giving.
Happy Mother's Day!