We're having a ghoulishly haunting time as we match up these monstrous creatures in our Monster Match Game. We're using our Cricut machine with their new Mini Monsters cartridge to help create these crafty paper monsters for our match! Perfect for a Halloween party for kids!
Monster House Matching Game
Supplies:
large poster board – any color
paper – all colors
Cricut Mini Monsters cartridge
glue
pencil and ruler
razor blade or rotary cutter
sticky back velcro
beads or mini pom pom – optional
lamination – optional
Steps:
1. I shaped my black poster board into a monster house by cutting 2 triangles off the top of each corner. I added some fun paper scallops, grass, and a gate to the border to give it a fun look using the Plantin Schoolbook cartridge from Cricut.
2. Next, I cut out all my monsters using my Cricut machine. I cut two of each for a matching pair. On most of these monsters, I only did one layer, but this cartridge comes complete with fabulous layers for each monster, eyes, arms, mouth, etc, giving them lots of detail. I added a few googley eyes to one of them. And when each monster is complete, you can get them laminated to last longer or add your own clear contact paper as an option to keep them protected.
3. Using a razor blade knife or rotary cutter and mat, I cut out little doors for each of the monsters. I measured a grid with a pencil and ruler (3 3/4 x 4 inches square), but only cut 3 sides, letting the door fold open. Bend the door back and forth a bit to force it closed as you play (you don't want any monsters being seen).
I also attached a little bead to the front of the doors with a glue dot to act as the door knob.
4. Turning the poster board over, I attached a piece of sticky back velcro to the center of each door. Then I attached the other half of the sticky back velcro to the back of each monster. This way, you can rearrange your monsters again and again for this fun matching game.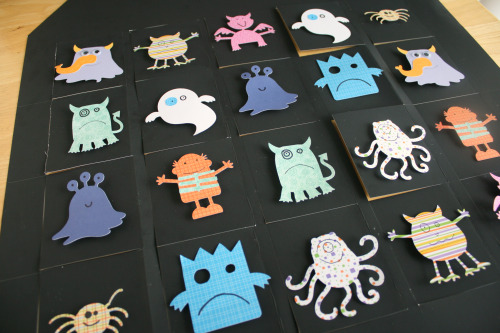 5. Now it's time to play. Open up each door to the monster house, 2 at a time, to see if you found a match. If you did, remove it from the velcro to collect them and count them up at the end. Take turns opening 2 doors at a time to see if there's a match, until you've found them all.
This fun Monster Matching Game would be great to play at a Monster Birthday Party or even for Halloween Class Party. Have a monstrous good time!
Be sure to visit a retailer near you (Jo Ann, AC Moore, Meijer, Michaels, Oh My Crafts, Memory Miser, or CricutMachine.com) and pick up the Mini Monsters cartridge for a chance to win a free cruise, cash prizes, and cartridges. Learn more about the Cricut Ticket promotion.