We just celebrated my son's 8th birthday. I can't believe I have an 8 year old!! He wanted to go see the movie MegaMind, so we thought we'd make a fun theme out of it for his birthday party. For his costume, he's wearing a blue craft foam visor upside down for Megamind's head, and I cut out a black goatee from black paper. Doesn't he look just as mischievous as Megamind?!
He invited a few friends to go see the movie, then back to our house for pizza and cupcakes. Here's just a few of the fun things we did to celebrate with MEGAMIND.
Invitations: Using a half sheet of blue cardstock paper, I cut out a giant egg shape for Megamind's head, added big googley eyes, and drew on his other face features. On the back side, I typed up the party details and we passed them out to his friends.
Decor: We blew up a bunch of blue balloons and had them scattered around the house. We drew Megamind's face on each one for a fun effect.
Party Bags: Inside blue plastic party bags, I added a small blue frisbee (which I called a flying saucer), a spacey bouncy ball, a blue packaged snack, and a blue spacey glow stick! It's all about the color blue with Megamind.
Cupcakes: I couldn't resist creating these cupcakes, not after making the invitations and balloons. I frosted each cupcake with white frosting. Then using a blue frosting writer, I traced Megamind's head and filled it in. I smoothed it out with a frosting spatula. Then with a black gel writer, I drew on his face features. This is my sad attempt at freehand drawing! :)
For his eyes, I had to add small googley eyes! I had too. BUT big DISCLAIMER: do not eat plastic eyes! I made sure to tell the kids not to eat them, then watched each one take them off before they ate their cupcake. You could replace these with m&m's or other candies. Or if you make a large cake instead, you could do one pair of large googley eyes too.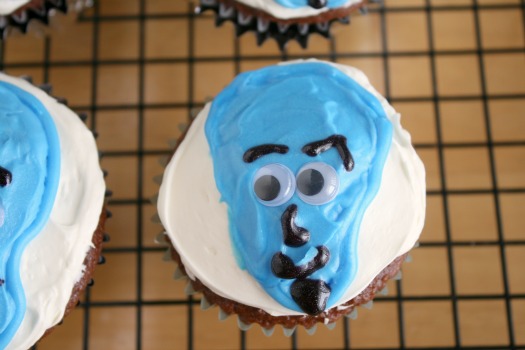 Happy Birthday, my big 8 year old boy!! I hope it was a MEGA birthday!
Want more ideas? Here are 112 Birthday Cakes Ideas for a Party!