Are your kids on summer break yet? I have yet another paper-scrap-busting project for you and your kids, perfect for a summer crafting session. For a twist on the good ol' cut and glue paper collage, we're leaving a shape uncovered for a cool negative space effect. I love how they turned out!
Supplies for Negative Shape Collages:
background paper (in color of your choice)
paper scraps: construction paper, scrapbook paper, magazine/catalog pages
(optional) other flat items to collage, such as doilies, foil, patterned tape, etc.
glue stick
scissors
stencil or tracer for your shape – pre-made or make your own!
Choose a color for your background paper – this will be the color of your negative space shape when your collage is finished. Decide what shape will be the negative space in your collage. Simple large shapes are easier to collage around than small, intricate shapes. If you are doing this project with little ones, a circle, heart, or triangle might be good to try. Older kids might like to work with a more challenging shape, like a flower, animal, hand, or initial.
Lightly draw your shape on the background paper. You can freehand draw, use a stencil, or make your own tracer with another piece of paper. This is just to give you a basic guide for creating your collage. You could trace your shape right in the middle of the paper, or see how it looks off-center.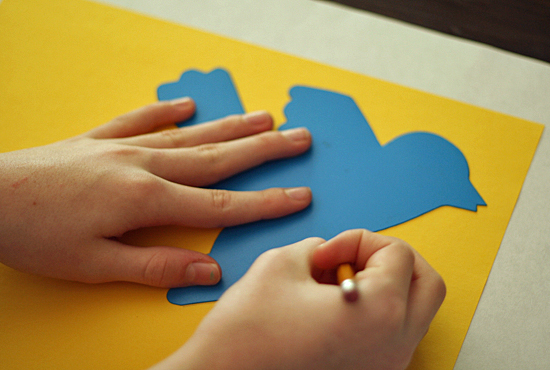 Now it's time to get busy cutting and tearing paper to collage. Fill the entire paper, except for your shape, with overlapping pieces of paper, tape, and other flat materials. My girls mostly tore their pieces, except when they needed a specific curve or edge to go around the outline of their shapes.
My girls really enjoyed watching their shapes start to stand out as they filled their papers.
I used various shades of green on my collage. Sticking to a single color or two also creates a neat effect.
Don't worry about going over the edge of the background paper. Just trim the edges when your collage is finished.
This is a great project for a hot afternoon inside. It took my girls about 45 minutes to complete their collages – lots of sifting through the paper scraps, cutting, tearing, gluing, and chatting!
Happy crafting!