We have been going to the park almost everyday. It is not too hot, not too cold. But the breeze has been kicking up a little. I am on the bench shivering from the wind. I went to the car to get my sons fleece blanket to keep from getting cold. But the blanket wasn't covering enough of me. I had an idea. I could cut a hole in the center of the fleece blanket and make a nice warm poncho that covers more of me. But instead of cutting a hole in my sons favorite blanket, I decided to make a new one.
This Park Poncho is an easy no-sew project. With fleece, the edges won't fray when they are cut. I made one for me and one for each of my kids. The best is that it serves two purposes: a poncho in the cold or a blanket to lay on in the sun.
I bought 1 3/4 yards of navy blue fleece, you could buy any color that suits you. I kept it folded and cut out a small even square. One square for Matt and one for Lucy.
I then folded it into a triangle and found the center. Then I cut a small hole to know where my center was. I cut 3 inches down one side and 3 inches down the other side. Now open it up and see if the hole in the middle is large enough for your child's head. I had to cut a little more for Matt.
Next, you can leave it as is, like I did for Matthew (it was a little more boyish). Or you can cut little 1 1/2 inch strips up all of the sides for a more girly look, like I did for Lucy's poncho.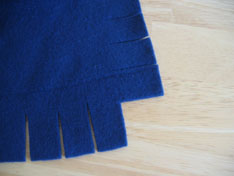 For mine, I used the last yard that was left of fleece. It was more the shape of a rectangle, so instead of making mine a diamond shape, I folded it in half squarely. I cut out my hole for the center, and then cut little strips on only the front and back end. I left the sides straight. Now it covers me great, with the front slightly smaller for my hands to get out and read a book if we are just relaxing.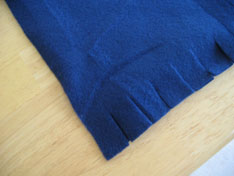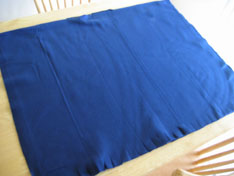 Have fun playing at the park, but keep warm with a Park Poncho.