When I cook Italian food for dinner or anytime we have bread as a side item, we dip our bread into Oil and Vinegar. To be more specific, Extra Virgin Olive Oil and Balsamic Vinegar. Thanks to Macaroni Grill, we have been doing this at home for years and can't seem to stop.
Because we love this combo so much, we purchased these great glass bottles to put them into. It makes it easy and quick to use. Our bottles came from good ol' Bed Bath and Beyond.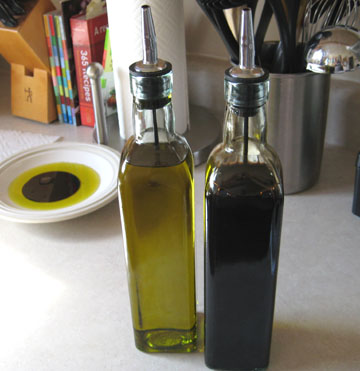 You can add extra things to your mix as well. We have enjoyed Fresh Black Pepper, Parmesan cheese, Minced Garlic, or a yummy herb mix of Rosemary and dried Oregano. You could even add a little Red Pepper for some spice.
We dip all kinds of bread into our Oil and Vinegar, usually whatever I have on hand. But the best is a fresh homemade bread. Next week, I will be sharing a recipe I make for a yummy Rosemary Bread that I have learned from a friend, so stay tuned. But for now, pick up a yummy sourdough or french bread from the local bakery to dip into your Oil and Vinegar.