When we're having a picnic out back, I like to use a tablecloth to cover my table. But the pesky wind seems to always blow it around. So I took a store-bought tablecloth and sewed elastic around the edges, making it fit snug as a bug around my table. Now I don't have to worry if the wind picks up and my food is saved from any cloth flaps whipping right into my pasta salad!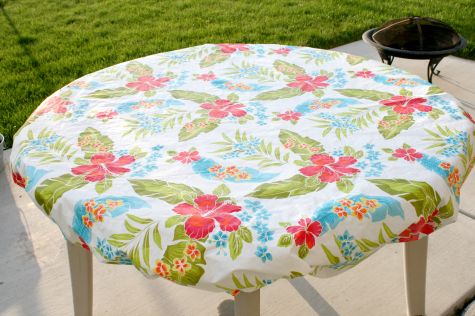 Supplies for Tablecloth Trick:
any size tablecloth – mine is a plastic vinyl with the fuzzy cotton underneath
sewing machine
1/4 inch width stretch elastic , I used almost 2 yards (you can use as wide as you want, but 1/4 is a good measurement.)
safety pins – at least 2
First, you need to sew a 1 – 1 1/2 inch seam around the edge of the tablecloth, wide enough to fit the elastic through. But, you don't sew it completely shut. Leave at least 3-4 inches of the seam open, for an area to put the elastic up and through.
Also, since this is a circular cloth, it's hard to sew a straight line. So I found myself needing to fold over my fabric just a little around the seam, about every 8-10 inches. (If you have a better way to sew around a circle, please let me know!)
You're ready for your elastic. Pin a safety pin onto both ends of the elastic. One you will leave all by itself on the elastic, the other, you'll pin to the edge of the tablecloth. This is so you don't end up loosing your spot, messing up all that work you just did.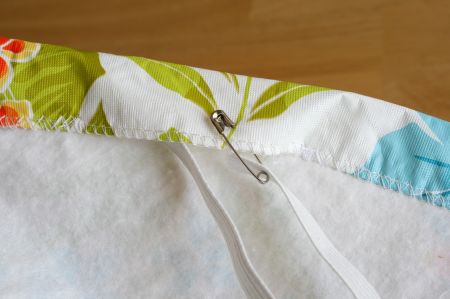 Once your end pin is securely in place, thread the front pin through the hole of the seam. You need to finger your pin all the way through the entire tablecloth… yes, it takes some time. You scrunch your pin through, then while holding onto your pin with one hand, push the fabric back the opposite way. It does start to get a little extra scrunchy, but that's just how it is when you're threading a lot of elastic through a a lot of cloth.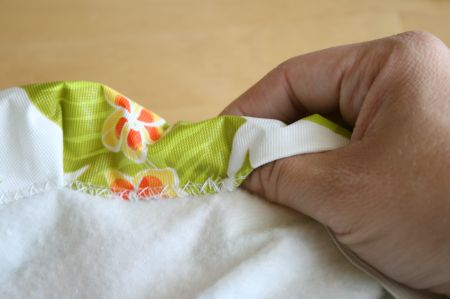 After you've made it all the way around, pull the pin all the way out of the seam again, now on the other side. Here, you can either test your tablecloth by pinning the two ends of the elastic together and seeing how it fits on your table, OR you can go ahead and sew your elastic ends together. I just zigzag through them 5-6 times back and forth. Trim the extra elastic, then sew up the hole that was left.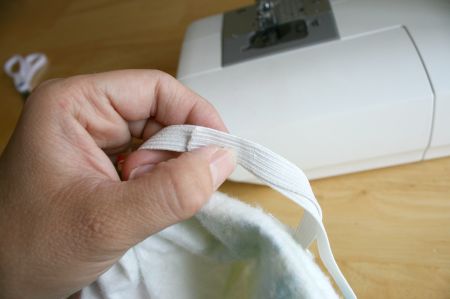 Now it's ready for your table. I'm so happy with how it turned out. No matter the weather elements, my tablecloth will be staying securely in place!