Paddington is a cute and cuddly, often times curious, little bear. Fans of the books will be excited to know that a new Paddington film is arriving in theaters everywhere this January 16th. The film comes from the producer of the beloved Harry Potter films, and stars Nicole Kidman.
What fun it was to craft a Paddington themed party, celebrating with a few fun Paddington Bear ideas! With the new movie coming out soon, it's been so fun to watch the story of everyone's favorite bear come to life, even at the party! Treats, party bags, and sipping straws inspired by this lovable little bear!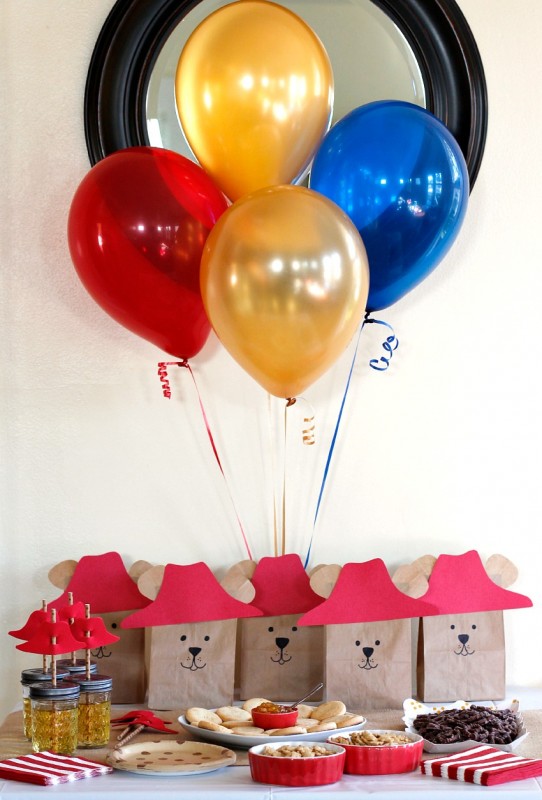 Here are some ideas for a Paddington Bear themed party!
Drinks: We used apple juice in cute little mason jars with fun decorative lids. I found some darling brown polkadot straws that are perfect for a bear theme. Make a set of festive little straw sippers for each of the drinks.
Using red craft foam, trace out the shape of Paddington's hat with a pencil. Make each about 2×3 inches in size. Cut out the hat, then cut 2 small 1/4 inch slits in the center of the hat by folding the hat in half as you cut. Thread your straw through the holes and your straw is ready for sippin'!
Snacks: What do you think of most when you think of Paddington and food? Marmalade! It was a big part of the books I used to read growing up. I added a plate of shortbread cookies and some orange marmalade in the center for the treat table.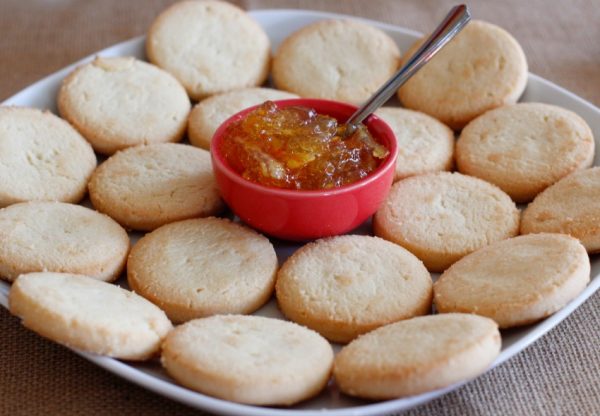 I also put out some of those cute little bear cookies, as well as chocolate dipped pretzels. You could also make little bear shaped sandwiches or paw print treats too. And I hear Brownie Brittle is another one of Paddington's favorite snacks :)
Crafts and Games: There are loads of fun bear themed crafts, games, and activities to play. Here are a few perfect ideas for a Paddington Bear Party:
Make these cute teddy bear picnic baskets
Craft a paper bear with brown shredded paper
Play a game of teddy bear hot potato
Toss the teddy bear game with a stuffed bear and a blanket
Go on a "bear hunt" by create a scavenger hunt as you search for the bear themed goodie bags
Be sure to have everyone bring a special little bear with them to the party!
Party Bags: Fill some extra little goodies for your guests in these festive Paddington party bags! You can add a small bear toy, bracelets, wrapped candies, a jar of marmalade or gummy bears!
How to make Paddington Bear Party Bags:
Supplies for Paddington Bear Party Bag:
brown paper lunch bags
scissors
black marker or crayon
glue or stapler
red art paper
1. Cut 2 inches off the top of your paper bag, save it for later.
2. Draw a bear face onto the center of your paper bag with your marker or crayon.
3. Fill the bag with your goodies.
4. Fold the top of the bag down 1/2 inch and glue, tape or staple it closed.
5. With the extra top of your brown bag, cut out 2 bear ears and glue them onto the corners of the bag.
6. Cut out a Paddington shaped floppy hat from the red paper. Glue it onto the top of the bag, between the ears.
Now they are ready to add as the finishing touch to your Paddington Bear party table! Have fun hosting your next bear themed party!
I can't wait to watch this sweet story come to life on screen. Be sure to watch the Paddington trailer below to get excited, it's fun for the whole family!
For more inspiration, follow #PaddingtonMovie on twitter, facebook, instagram and pinterest!
*Thanks to Paddington Movie for sponsoring and inspiring this post. All ideas are my own.